Willkommen bie den Riedmanns!
Welcome to the internet home of the Riedmann family in Omaha, Nebraska. It is our hope to provide everyone with a wealth of information about the Riedmann family, including its German history going back to Stetten Germany, several Riedmann family trees, memorials to those who have passed on and so much more. The website focuses on the descendants of Georg and Magdalena Riedmann from Stetten Germany and their descendants in Omaha, Nebraska.
This website will provide you with information about our family and take you to places we hope you will enjoy visiting. There should be something for everyone whether you are curious about the past, want to find someone, settle a bet or research your roots for school.
Website Resources
Home: Besides our greetings on this page you will see links to information about the Riedmann Family Coats of Arms and the Family Cookbook. For more recent and occasional news from family members go to http://www.facebook.com/groups/riedmann/. It is a private group and you can request to join the group. Family members are welcome.
Omaha Family Genealogy: These pages provide an Introduction to the family and how our ancestors arrived here from Stetten Germany; Georg Riedmann's family; the story of Al and Frances Riedmann, a fairly complete list of all their Descendants; Memorials to those members of the family who have past on; Adam Riedmann's family; information about our German ancestors going back hundreds of years and future links to other genealogical websites about the Riedmanns.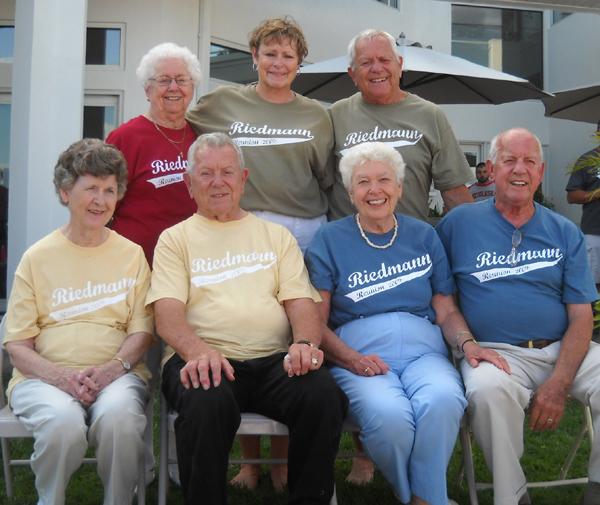 Riedmann Reunions: An archive of the web pages created of past Riedmann reunions. It includes general information about the reunions and pictures taken including the one above of several of our family elders.
About Omaha: What to do in Omaha and weather info.
Contact Us: How to reach the author.
These pages will not be limited to only those named Riedmann. It will include blood relatives no matter their last name. If you have a suggestion of something you would like to see here or know of any errors please let me know.
As my cousin Ruthann Panowicz told me, "Walking, I am listening to a deeper way. Suddenly all my ancestors are behind me. Be still they say. Watch and listen. You are the result of the love of thousands." – Linda Hogan (1947)
Sincerely,
Louis M. "Chip" Riedmann, Jr.
We've had this many visitors!
N/A
Nothing has really happened until it has been recorded – Virginia Woolf