The first reunion of the descendants of Alfred & Frances Riedmann was held on July 4th, 1992. It was held at what was then the cabin of Lou & Sharon Riedmann. Below is a picture taken of the family. Each family wore a different shade of blue to help identify each branch of the family. Food was supplied by Eddies Catering in South Omaha. They served pork roast, sauerkraut and dumplings, potato salad and more. Munchies and desserts were provided by the different families. Cornhusker Beverage provided Goody Pop, of course.
This was the first year goody bags were handed out. Many of the family members donated all kinds of gifts for the bags which were handed out to each family. Many different kinds of souvenirs were provided.
This is also the year the Family Cookbook was created. All families were provided a copy. Be sure to check out the recipes located on the website menu. Not only are there many great dishes included, but a few stories and other entertaining and informative tidbits as well.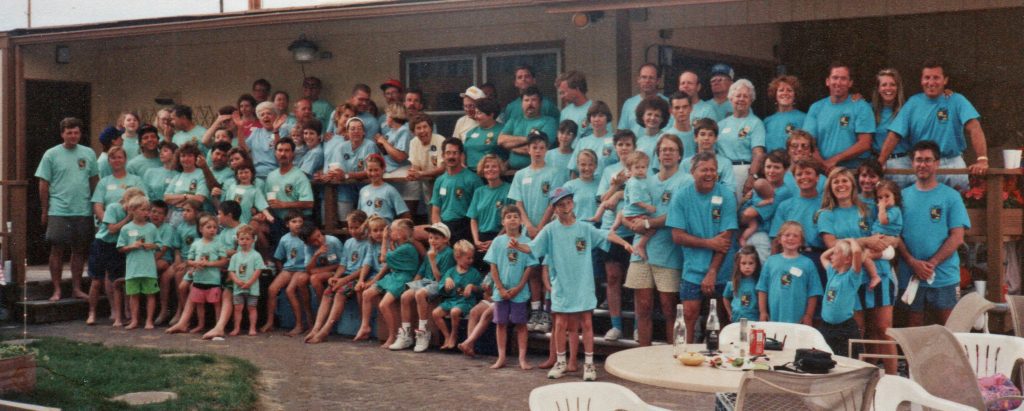 The following are also pictures from the event.
Special thanks go to the following for organizing the first Riedmann Reunion and to those who assisted to make it a success.
• To the family elders who made it happen: Madge Panowicz, Renie Van Moorleghem, Fran Garvin,George Riedmann, Al Riedmann, Ruth Elsasser & Lou Riedmann. They not only put in the time and effort but also provided Stoysich wieners & rye bread (thanks to Renie and Clem), condiments, sauerkraut & dumplings, fruits and salads, baked beans, tap beer and soft drinks.
• Tony & Madge Panowicz – newsletters, mailings and general correspondence
• Renie & Clem Van Moorleghem – collect names and addresses, collection point for goody bag items in Omaha
• Fran & Bob Garvin – organizing goody bag items and distribution
• George & Betty Riedmann – food arrangements
• Al & Shirley Riedmann – reservations, name tags, registration, etc.
• Ruth Elsasser – organizing the cookbooks
• Lou & Sharon Riedmann – cabin for the reunion, tents, chairs, set up and clean up
• Margie & Jim Sobczyk and Francie & Jim Wies – family cookbook recipe collection and printing
• Debbie & Mark Elsasser – handling shirt orders
• The families of George Riedmann, Ruth Elsasser and Lou Riedmann were responsible for munchies
• The families of Madge Panowicz, Al Riedmann and Fran Garvin were responsible for desserts

The event was held in memory of Ruth Riedmann Elsasser who helped start the project but passed away before the reunion was held. Even through sickness she insisted the reunion go on.
She passed away January 26th, five months before the reunion. As she use to say, "Life is uncertain, eat dessert first."