Stetten, Germany
The Riedmann family of Omaha, Nebraska can trace their roots back to the late 1600s in Stetten Germany. Stetten is a small village in a wine-growing region in the state of Bavaria, Germany. It is located near (and now incorporated with) Karlstadt, which is northeast of Würzburg, between Frankfurt and Nuremberg. More on Stetten is covered later. There are some Riedmann descendants still living in Stetten, although they may not be related to our immediate family. Rita Riedmann Röhling, who was the daughter of Johann Riedmann, used to reside at her parent's house. A picture of the house is shown below. She passed away in 2006. She was born in 1924 and remembered many of our ancestors. She assisted in the research of the family's history. She also remembered some of our family, Alfred and Mary Riedmann and her oldest daughter and her husband Madge and Tony Panowicz, who visited Stetten in 1964. The Schraut family, Magdalena Riedmann's family, also still resides in Stetten. They all provided some of the information below.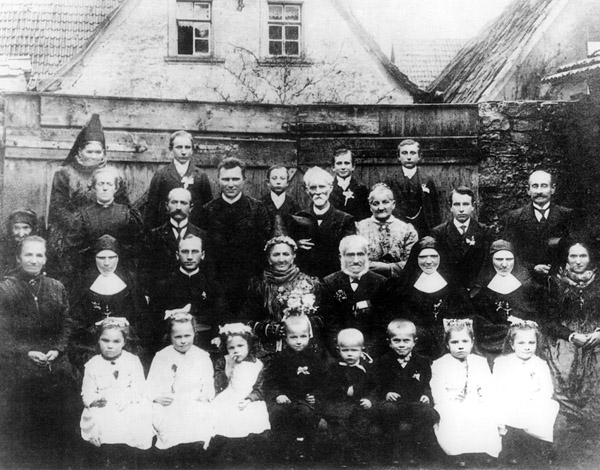 The earliest complete records found are those of Georg Riedmann who married Maria Magdalena Hessdoerfer. He was a wagon wheelmaker and farmer. In those days most everyone had a trade of some type in addition to being a farmer. Birth records of some of the children show that Maria actually was named Anna Maria. More information about their families can be found on the Family Research webpage. This page includes ancestral information back to the 1600s.
Georg and Anna had 13 children in all. Their first child was named Georg Michael Riedmann and was born Sept. 11, 1870 in Stetten. Their fifth child was born Oct. 10, 1875 and named Georg Adam Riedmann. (They must have liked the name Georg.) These are two of the three children who immigrated to the U.S. that have been identified in the Ellis Island immigration records. They eventually settled in South Omaha. Adam moved to South Dakota for a short while but decided it was too cold and moved back to Omaha.
Gregor, the ninth child and born Jan. 25, 1882, also immigrated to the U.S., but no records have been found of his arrival. It is known around 1907 he worked for the Union Pacific Railroad and lived with his brother Adam. It is believed he moved to South Dakota and resided there for a while. Family stories say Gregor eventually made his way to Australia where he started a fishing business. The last information received about Gregor was after he died. This may have occurred as early as 1908 according to records in Germany. Adam was contacted and asked to come to Australia to collect his inheritance. It is not known how much it was, but Adam was unable to leave. The trip would have been too expensive and too long (by boat, planes were not a means of travel back then), and he would have lost his job at the packing plant if he left.
Other brothers and sisters include Alois Riedmann (#12), born May 6, 1887. He was a priest, a doctor (PhD.), a professor of Theology and a writer. Three of the daughters were nuns: Anna Maria (Sister Wolframa), Maria Thelka (Sister Enswida) and Mathilda (Sister Iphigenia). Another daughter, Margarete Maria, married Georg Gerhard. Their descendants still reside in Stetten. German family legend long believed that one son who also emigrated to America died during the trip to America. However, this has been found to be incorrect as all their children can now be accounted for. It is presumed this was Gregor whom everyone lost contact with.
The other children's names (in order) were: Katharina, Dorethea, Johann Phillip, Johann Kaspar, and Anton.
A historical book, 1200 Jahre Stetten, was written by Edgar Burkard in 1988 to celebrate the 1200-year festival of Stetten. It notes that in 1895 there was a Typhus epidemic in that region. This was thought to have precipitated Georg's and soon-to-be bride Magdalena Schraut's leaving however her unplanned pregnancy was more likely the reason. More on this below. It is also believed that in his early years Georg worked in a private military detail as an aid assigned to Kaiser Wilhelm.
Magdalene Schraut was born on March 20, 1874, also in Stetten. Her parents were named Josef Schraut and Margaretha Deissenberger. Joseph's family owned a mill where they milled grain and were bakers. Some of the Schraut family living in Stetten today are still in the baking business.
Rita was able to clarify why Georg and Magdalena left Germany. Magdalena was pregnant and they weren't married. Old Georg was very religious and this was considered a disgrace to the family, so they were told not to just leave Stetten but to leave the country. So they did.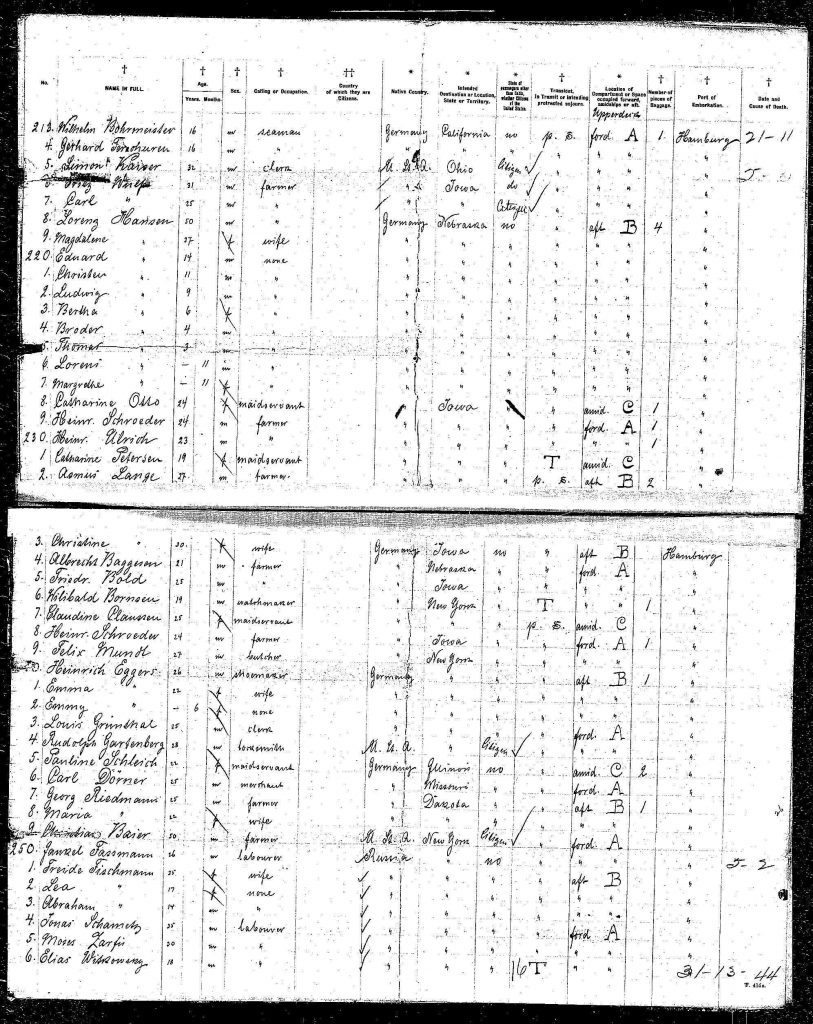 Georg Michael Riedmann and Magdalene "Lena" (Schraut) Riedmann were married on February 24, 1895, shortly before they boarded a ship for America. He was 25 years old and she was almost 22. They left Germany on March 5, 1895 and arrived in America at Ellis Island on March 18 with one piece of luggage. That's a long, uncomfortable trip for a pregnant woman. They emigrated from Hamburg, Germany via the SS Phoenicia. The Phoenicia was built in 1894 and this may have been the ship's second voyage. No Ellis Island record exists for Magdalena, however, there is a record of a Maria immediately after his name and lists her as "wife", so it is presumed to be her. Click on the image of the ship manifest to the right to see the record. Note the manifest says they were traveling to Dakota. It is unclear why they did as there is no known connection to anyone there. They must have traveled to Omaha quickly, after a short stop in South Dakota. In order for that to happen he must have had money to make the trip and he must have had someone here waiting for him. Fred Metz of the Metz Brewing family could have been the person to assist him. It is known that he helped many Germans come to Omaha over the years, and Georg also worked for the Metz Brewery for a while. Georg Michael's brother Georg Adam arrived at Ellis Island June 21, 1902.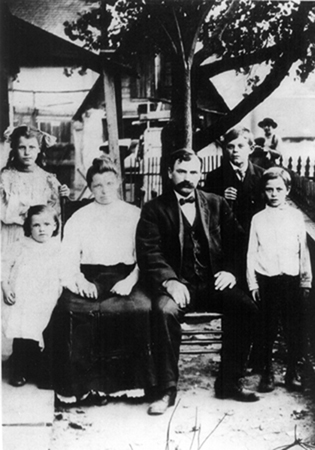 After arriving in Omaha Georg and Magdalene Riedmann moved into a house on North 17th St. They had six children: Alfred, Matilda, Louis, Anna, Amelia, and Margaret. Alfred was born 2-1/2 months after they arrived in America. It is unknown exactly how and why they came to Omaha but Magdalene must have been a very strong woman to endure all that traveling, especially on a ship, while being very pregnant. In Georg Michael's family picture Anna is not present. She died shortly before the picture was taken when she was 9 years old. Georg was so upset that he never had a picture taken of Anna that he decided to have a family picture taken soon afterward. Margaret was born shortly after this picture was taken. Margaret also died at an early age.
Georg filed his "Declaration of Intention" to become a U.S. citizen shortly after arriving in the country on November 2, 1895. The document was filed in Omaha showing that it didn't take long to get here. He became a U.S. citizen on October 6, 1913. It is during this time that an 'e' was added to his name and would be legally named George. It is not known if Lena ever filed for citizenship.
Georg held several jobs in his early years in Omaha. He first worked for Metz Brewery starting in 1896. In 1900 he next worked at Omaha Brewing Association (later named Storz), in 1903 he worked at Krug Brewery and in 1907 he worked at Willow Springs Brewery. Ironically his son Alfred would later go to work at Willow Springs and bought the company in 1929.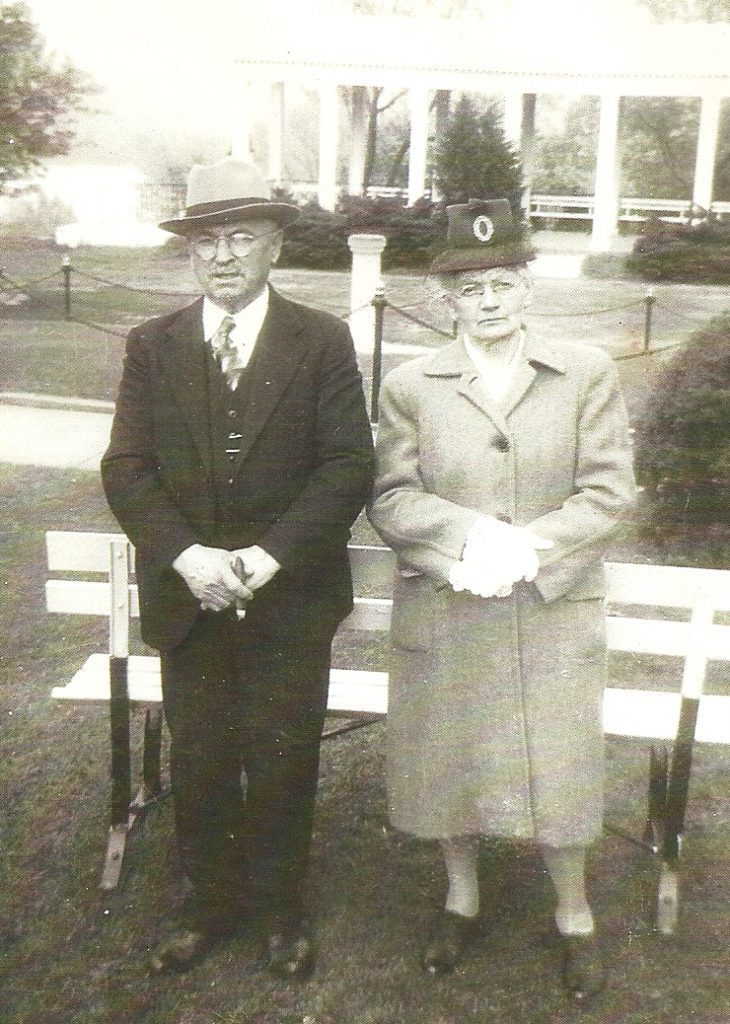 Magdalena passed away in 1919 from Huntington's Chorea. She died by choking on her tongue while he was at work. When Georg arrived home from work and found out he was extremely angry as his love for her was so strong. He took all her medicine outside to a ravine and threw them as far as he could.
Georg would eventually meet Anna Amalia Herold from Columbus Nebraska and marry her in 1931. They never had any children between them. Anna, or Auntie Ann as her grandchildren would call her, was born in 1876. In an odd twist of fate, both Georg and Anna died on the same day, April 28, 1956. The picture to the left was taken on their wedding day at Mt. Vernon Gardens in Omaha.
More information can be found on Georg and his descendants on Georg's Omaha Family page.
Frances's Family
To look at France Vacek's origins you have to go back to the old country. Not much is known of her descendants. We do know John Vacek married Josephine Roza, or Bobby, of Lucic'e, Bohemia (modern-day Czech Republic) in 1883. John emigrated to America to join his brother and find a home for himself and Bobby, then send for her. After he left she decided not to wait for him. She sold the farm they lived on and moved to America. She came over with their first three children arriving on Jan. 21, 1890. The rest were born in America. Their children were Mary, John, Joseph, James, Frank, Frances Ann, Josephine, Charles and Edward. Frances would eventually marry Alfred Riedmann. Frances is the grandmother of the family tree this website is centered on.
Immigration to Omaha
The history of immigration from Europe to Nebraska is presented in the book Nebraska Moments, Glimpses of Nebraska Past by Donald R. Hickey. In it, he provides many interesting facts about the immigrant population in Nebraska. In 1900 German immigrants made up the largest group in Nebraska at about 18% of the state's population. Most would be first or second-generation Germans of which Omaha held a large contingent. Georg's children would be first-generation German-Americans. The Bohemians, which today would be the Czech Republic, formerly part of Czechoslovakia, were perhaps the fourth largest group constituting 3.6% of the state's population in 1900.
Many of the ethnic groups from different countries would establish organizations, churches, clubs or newspapers to help each other adjust to the new country. The Germans established the German-American Society which built their first permanent home at 4206 So 13th Street, then later moved to its current location at 3717 So 120th Street. Georg's son Alfred would become president of the organization while they were at the original location. The German American Society hosted many activities including the annual German Day Celebration, Christmas parties and German language education. The Bohemians, or Czechs, built Sokol Hall at 2234 So 13th Street. Sokol Hall was used for social gatherings, concerts, dances and gymnastics. To this day it still hosts rock and hip hop shows. Many of the second-generation members of the Riedmann family attended events or took gymnastics lessons at Sokol Hall, or took their families to the original German American Society hall on 13th St. for the annual picnic, Christmas party or rented the hall for weddings.
Other Notes on the Riedmann Family and Stetten Germany
By Chip Riedmann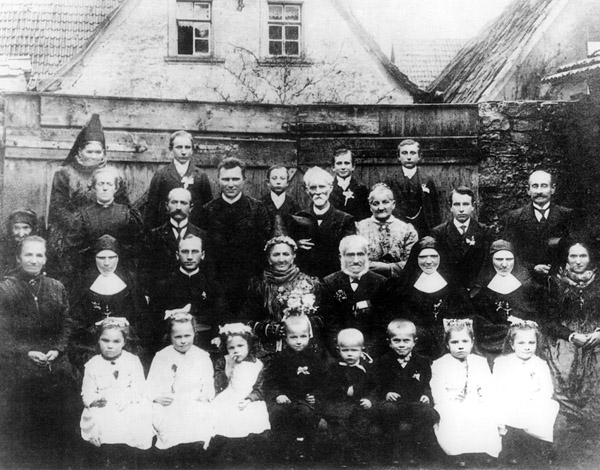 Over the years I have exchanged emails and had phone conversations with Brigitte Weidner and Robert Hessdoerfer of Stetten, Germany. Brigitte gave me Robert's name as he is related to us (my third cousin). Robert is married to Katrin and they are of my generation. His great-grandmother Margarete Riedmann Gerhard is the sister of my great-grandfather Georg Michael Riedmann who immigrated to America. This makes him my third cousin. The wedding anniversary picture was taken in the courtyard of the house Robert and Katrina live in.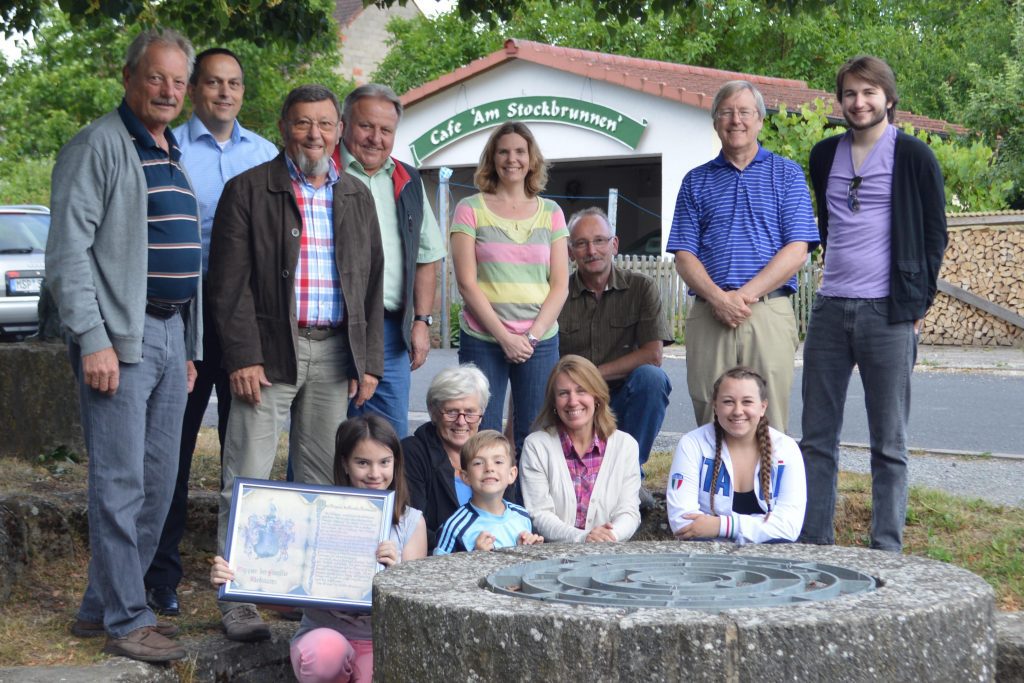 Robert and Katrina have also worked on their family's ancestry. They spoke to Rita Riedmann Röhling who was the last surviving child of Johann Riedmann, Georg Michael's and Margarete's brother. As stated above Rita passed away in 2006. Robert spent a day speaking with Rita getting as much information from her as possible. This included naming the people in the 50th wedding anniversary picture (above) of our great-great-grandparents and their family. The picture was taken on Nov. 23, 1919. Rita gave us the names of all the children of Georg and Maria Magdelena Riedmann. After studying the names and birthdates we were able to determine that contrary to previous stories no one died during the voyage to the US.
One small anecdote about Rita is that she was the 11th of 12 children. When she was born it was said that she looks like Maria Magdalena (her grandmother) in her early years. Her aunts always said: "Du siehst aus wie´s Fraela" (which means you look like Fraela = nickname for old wife). Maria Magdalena died shortly before Rita's birth, and the aunts said that the angels sent "little Maria" from heaven. Rita is not in the wedding anniversary picture since she wasn't born.
Rita has copies of pictures that were taken when Alfred Riedmann Sr. traveled to Germany in 1964 with his wife Mary and his daughter and her husband Madge and Tony Panowicz. It is believed some of the pictures were taken by Mary Riedmann because she is not in most of them.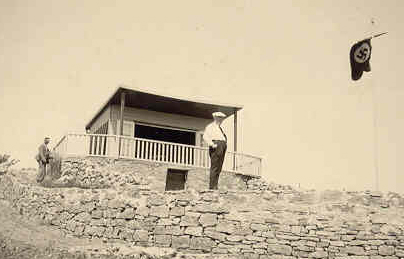 One of her more interesting pictures was of the weekend house of Fr. Alois Riedmann. In front of his house was the Nazi flag with the swastika. Robert explained that during the reign of the Third Reich everyone, including teachers and religious leaders, had to display the flag to show their allegiance to Hitler — or they would face imprisonment or death. Thus he had the flag flying not so proudly in front of the house. Fr. Alois wrote three and a half books on Catholic themes. The last one was finished after his death by a colleague. He is also a professor and a doctor (PhD.). So he could actually go by the name Prof. Dr. Fr. Alois Riedmann.
Magdalena Schraut Riedmann was born to Joseph and Margaretha (Deissenberger) Schraut. She was born in a house called Neumuehle (new mill), a short distance outside of Stetten. We are guessing the mill was built in 1615. Her family purchased the mill in 1826. The purpose of the mill was for producing flour for the family's baking business. One member of the Schraut family, Ludwig, still lives in Stetten. They are still bakers by trade. The ancestry of the Schraut family is going to be hard to trace as one of the church's books of records is missing, and other books were destroyed in a fire.
The home at 9 Werntalstraße, our ancestors lived in was still standing until 2018 when the owners tore down part of the house including most of the facade facing the street. It was over 400 years old. Back then families would keep their animals on the first floor of the house and the family would live upstairs. The first floor was essentially the barn. Rita Riedmann Röhling lived in the original Riedmann home where Georg Michael and his brothers and sisters were born and raised until 2005. As of this writing, Eugen Riedmann, unrelated, lives at Werntalstraße25. Robert and Katrin live across the street at Werntalstraße8. Anja Semmel, the granddaughter, of Rita Röhling, lived behind 9 Werntalstraße.
About Stetten
Stetten is a small village, lying in a valley on the Wern River and surrounded by wine vineyards and fields of grain. In pictures of the area you can see the vineyards on the hillsides surrounding the town. It is in the central part of Germany, in the Lower Franconia region which is in the northwestern corner of the German state of Bavaria. It is in the MSP district. MSP stands for Main River-Spessart. The Main River passes alongside nearby Karlstadt (aka Karlstadt am Main) and Spessart is a range of low wooded mountains in Germany. Stetten is in the Franken wine region which predominately produces Franken wine, Silvaner being the most popular. Silvaner (also spelled Sylvaner) wine is a well-rounded, lightly sweet, dry white wine, similar to a Riesling. This is the only region in Germany where Silvaner outsells Riesling. Stetten consolidated (not annexed) with Karlstadt, Germany in 1978. Karlstadt is a tourist stop for river cruise ships that travel the Main River.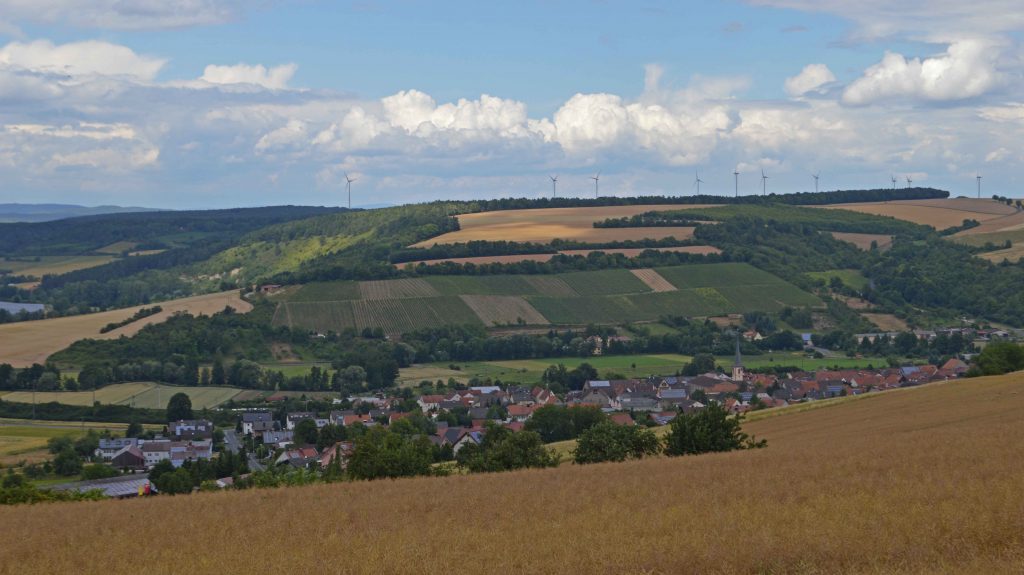 Würzburg, the nearest city to Karlstadt, is called Germany's Franken wine capital. Most of the region's wine is consumed within a 150-mile radius. Würzburg is also called the city of 100 steeples because of the large number of church steeples there. It is the capital of Unterfranken (similar to a county), which is part of the state of Bavaria.
Wine production has made a comeback to the area after years of decline, especially in the early 90s when wine growers generated a glut of Franken wine at the expense of quality. Those who did produce quality wines suffered because they had to lower prices to compete. The whole industry in the area suffered for it.
During World War I and World War II, many of the men of Stetten were inducted into the German army. For some reason most of them were sent to fight in Romania. This included a couple of descendants of Margarethe Riedmann. Many died there; some were never to be heard from again.
1200 Jahre Stetten
Stetten had its 1200-year anniversary in 1988. A book was written by Edgar Burkard (wearing a green shirt and vest in the family picture above) to commemorate the occasion. It is titled 1200 Jahre Stetten. Some people refer to it as the Stetten Chronik because it is a very complete history of Stetten. I was sent a complimentary copy of the book via Robert Hessdoerfer. Several sections of the book include information and pictures about the Riedmann family. They include:
A picture of Prof. Fr. Alois Riedmann, some family members and other dignitaries of Stetten. The picture was taken in 1942 for the 25th anniversary of his priesthood.
Several pages are about Alois Riedmann and his becoming a priest in 1917. Pictures include the ceremony, a parade and a family picture of the Riedmann's.
The mill the Schraut family-owned is also discussed. In one picture is Joseph Schraut who we believe is Magdalena's brother. The house/mill does not exist anymore and has been replaced by a house where a member of the Schraut family lives today.
Stetten's Religious History
The town of Stetten is largely a Catholic community. Back in the 1890's Europe had been overtaken by a typhus epidemic and the townsfolk prayed for God to spare them from the disease. In return for his protecting them they promised to make a pilgrimage each year. In 1896, after the epidemic had passed, they started making a yearly 25km pilgrimage to Maria Buchen, which is a pilgrimage church in the middle of a forest. The march, or parade, is made at night on the second Sunday in June. They carry torches, bang drums and sing during the march.
There are five primary families that reside in Stetten today. Gerhard, Hessdoerfer, Burkard, Amthor and one other. Many of the families with the same last name are not related. As can be seen in our family, first names can be repeated a lot. Therefore they were given an additional name to distinguish people with the same name. So they were told apart by their profession or their father's name. For example, in Stetten today there are 13 couples who are named Ludwig and Maria Gerhard. Another example from our family is Johann Riedmann who was also called Kischberles Johann or just Kischberle.
In Gratitude
My thanks go to Ing. Hubert Riedmann, Brigitte Weidner and Robert and Katrina Hessdoerfer. Hubert assisted us in locating the town of Stetten. On his own, he lived in Switzerland, made a visit to Stetten and made contact with Brigitte Weidner. He sent several gifts to us from Stetten, including a bottle of Franken wine and drinking glasses. Brigitte put me in touch with Robert and Katrin Hessdoerfer who provided much of the information you have seen and read here. Without their help, much of this information would never have been discovered.
Thanks also go out to members of the extended Riedmann family for their assistance on other web pages. I can't remember them all but among them are JoAnn Gasper, Thomas Prchal, Gerald Raschke and Kathy Larson.