Alfred's Childhood
Alfred Adam Riedmann was born on May 30, 1895 in Omaha, Nebraska. He lived on 2nd Street near Hickory St. and then moved to 411 Walnut. He was baptized at and later attended St. Joseph's Church and School until he finished 3rd grade. He quit school to go to work when he was nine years old to help feed his one brother and four sisters. His dad, Georg Riedmann, did not always bring home enough to provide for the family.
As a child, Al was a paperboy for the Omaha Bee News and also worked at the O.K. Gallagher Co., rolling cigars. He worked hard and long hours. His mother favored him, much to the displeasure of his siblings, because he helped so much. When he came home from work he was served first and ate all he wanted. The other kids had to wait. He also got fresh fruit and sometimes there would not be any for the rest.
Al's best friend was Charlie Kyra (Karroll). As a youth he played baseball at Bill Pen Park for the Riverside Baseball Team. In winter, he would put together a sled called the Traveler. It was 2 sleds with big planks connecting them and tied together. With 4-6 people they would go down Hickory Hill which was a steep, winding hill.
Al later worked at the Metz Brewery Co. and was an apprentice at the Willow Springs Brewery until World War I. He enlisted in the Navy on May 17, 1918. He was sent to the U.S. Naval Electrical School at Hampton Roads Naval Base, Virginia. He was in the 10th Co. – 10 Reg. He was discharged on February 15, 1919.
Frances' Childhood
Frances Anna Vacek Riedmann was born January 8, 1896 in a neighborhood called Sheelytown, which at the time was just south of Omaha and north of South Omaha. It was an area of Polish folks around 26th and Vinton. Her family later moved to 30th and Harrison where they had three acres of land.
She was the sixth of nine children. She attended Assumption Church and School, walking 2 1/2 miles each way. She quit after the fifth grade to stay home and cook, iron, feed the chickens, pump water for the livestock, clean the chicken coops and sew. Electricity was put in her home when she was 15 years old. She later worked at the M.E. Smith Building making bib overalls. In those days a dressmaker would make a dress for $.65.
Frances went places by walking or by taking the streetcar or train. She chummed around with Julie Stehno Riha, Mary Riha Wichita and Josephine Vacek Visty. They went to dances, movies and picnics. Her dream was to take piano lessons, but she never did. On St. Nicholas Day, Dec. 6, she would get an orange, a few English walnuts, and candy; or coal if she was naughty.
Their Wedding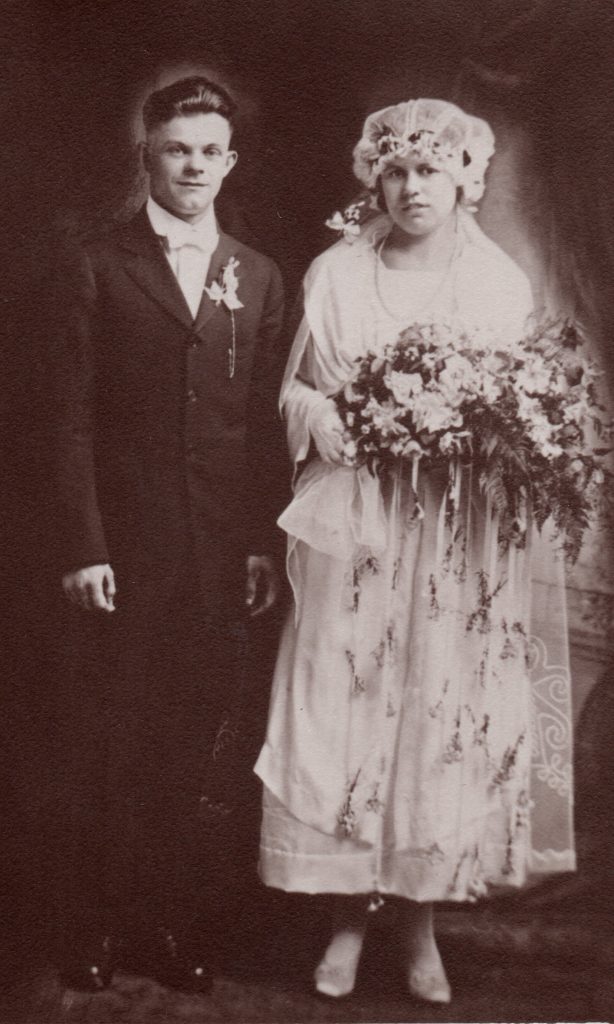 Frances met Al at a dance before he left for the Navy. They met at the Catholic Sokol Hall at 13th and Williams. They were introduced by Johnny Vher. Her folks did not approve of Al because he was German and lived in East Omaha, so they met without her parents knowing about it. Tradition said you married in your own religion and nationality.
When Al got out of the Navy in 1919 Frances was waiting for him. They soon became engaged. They were married at Assumption Church on August 5, 1919 at 9 AM mass. They went to church in a horse-drawn carriage. The maid of Honor was her sister, Josephine; and the Best Man was Al's brother, Lou Riedmann. A breakfast reception was held at the Vacek home on 30th and Harrison. They had kolache and coffee. In the evening there was a large dinner. There was an accordion player for dancing, and keg beer until midnight. At midnight Ann Vacek sang the Czech song "White Dove" and the veil was removed from the bride's head. A shawl was tied on and they gave the groom an old hat to wear. The bride and groom then danced. There was no honeymoon.
Their Years Together
The first Riedmann home was on 3rd Street between Pine and Williams. In 1921 they moved to 504 Martha Street (at right). All 8 children were born at home. Madeline (Madge) arrived at the rented home on 3rd Street. All the others were born at 504 Martha in the front bedroom. The house still stands having undergone some alterations, including an addition on the west side. Al sold it in 1959 and moved to 1430 So. 12 Street.
After World War I, Al returned to Willow Springs as a brewmaster As a side note, there has not been found a direct connection between Willow Springs Distillery and the Brewery as of this writing. The Willow Springs Brewery plant was located at 3rd and Hickory. With prohibition stopping the production of alcoholic beverages in 1919, the company changed its name to Willow Springs Beverage in 1917 and began making a near beer called Te-To (for teetotaler), malt and soda pop. Later the company had a disastrous turn of events. During Prohibition, people were allowed to make their own beer as long as they didn't make too much. One of the workers wasn't paying attention while they were producing malt, which was used for making homebrew, and the batch was burned. Rather than admit what had happened, the whole batch was bottled and shipped out. This turned out even worse because now the product made it out into the public and their name was ruined. Customers came back and demanded refunds, which the company didn't have as money was tight. This just about bankrupted the business and they decided to get out of the malt business.
In 1930, right before the Depression, Al bought the Willow Springs name, cases and bottles, and with partner Ed Nelson he moved the plant to 13th and Jones and began bottling soda pop in a former Anheiser-Busch building. The company name was changed again to Willow Springs Bottling Co. Al handled production and Ed handled sales. Later, when Ed became seriously ill, Al bought Ed's interest for $5,000.00 and became sole proprietor. He then moved the plant to 18th and California. All four of their sons worked at the pop plant. The business supported the family through good times and bad.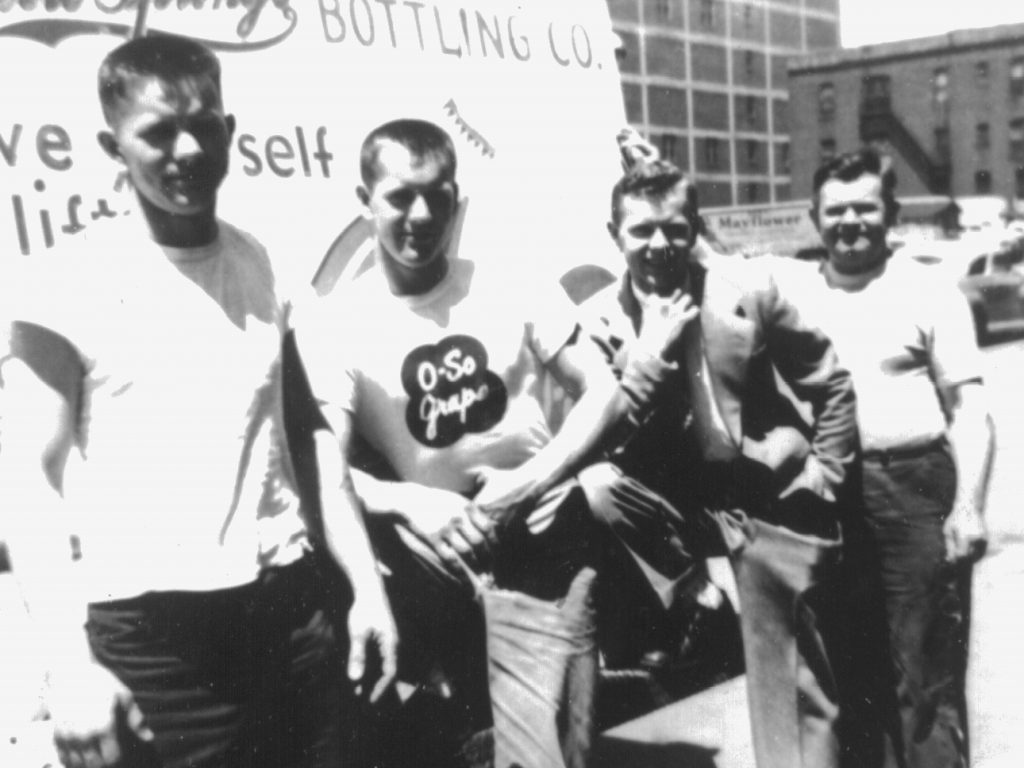 The company originally sold pop labeled as Willow Springs Beverages. Later it produced and sold Squirt, Dr. Pepper, Orange Crush, O-So Grape, Hires's Root Beer and Mission Beverages. Eventually, the plant was sold to 7-Up and he moved Willow Springs to 20th and N Street. Al's hours were long and the building so cold he would come home chilled to the bone. Sometimes he would receive deep cuts in his fingers from bottles exploding. In later years the company would sell Goody Pop with 24 different flavors. The Willow Springs name is still in the Riedmann family having been passed on to Al's son George after prohibition ended. In 1972 George moved the business out to 8510 K St and began operating the business under the name Cornhusker Beverage, but still registered as Willow Springs Bottling. After George passed away in 2014 his daughters and son-in-law, Jim Sobczyk, inherited the business. When Jim passed away in 2020, Jim and Margie's daughter Nicole took over the operations. Today it goes by the name Cornhusker Beverage and Bridal at the same location. Cornhusker has long been the largest beer keg seller in Omaha. As time went on the company adapted to the changing business climate of mega-sized pop bottlers. Today it is still one of the largest keg sellers, their beverage catering services are in high demand for weddings and special events, they have a complimentary bridal stationery business and also sell homebrewing equipment and ingredients for the DIY market. You could almost say they have gone full circle in the beer business when Al used to sell malt for making beer.
Al was an active member of the American Legion South Omaha Post #331 where he was Post Commander and in charge of the Sons of the Legion group. He was also very active in the German-American Society and was president multiple times. He enjoyed playing cards with friends and relatives. He loved his cigars and made home-brewed beer in the basement. His children would remember times when the bottles exploded and left a mess in the basement because too much pressure would build up in the bottles.
As a member of the German American Society, the entire family would partake in their yearly summer picnics on the grounds of the original German American Club on 13th Street just south of the Henry Doorly Zoo. This would include a lot of food, games and pop for the kids. During the winter there would be a Christmas play which would be presented in German. The hall would be packed with young and old. During the festivities a speaker would periodically go to the microphone and give a report on where Santa was and that he was getting closer to Omaha. All the children would shout with glee. Santa Claus would then make an appearance at the end of the event, much to the delight of the children.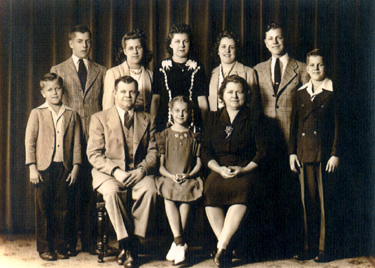 Frances was a great mother and homemaker. She was thrifty and with Al going into business, she really had to watch her pennies. She made clothes out of chicken feed sacks. They were made into colorful little girls' dresses, boy's shirts, and aprons. Out of sugar sacks she made bloomers, slips, sheets, mattress covers and dishtowels. She knew every which way to make hamburger dishes, and canned constantly. She baked fabulous kolache and cinnamon rolls, and her pork chops with sauerkraut and dumplings were always a family favorite.
They had apple trees, a huge Bing cherry tree and apricot or peach trees. When the fruit was almost ripe everyone had to watch at night to make sure the neighborhood boys wouldn't steal them. Naturally, while this was going on the Riedmann boys conducted their own raids on the neighbors for their fruit. There was a garden with lettuce, radishes, potatoes, onions and lots of tomatoes for canning. Al grew horseradish too. They also raised chickens and tried to raise ducks once.
Frances was an active member of the South Omaha American Legion Auxiliary. She did not learn how to drive a car and never smoked a cigarette. She was credited with saving a neighbor girl's life. Grace Caruso was a toddler and sucking on a butterscotch wafer candy and it became stuck in her throat. Mrs. Caruso came running over to Frances for help. Frances went over and turned Gracie upside down and the candy came out. Boy, was she blessed and hugged by Mrs. Caruso!
Al is also credited with saving a person's life. When Al was a young man people would go swimming in the Missouri River since there were few places to swim back then. One day he was swimming in the river and a man began to yell for help as he was starting to drown. Al swam out to him and tried to grab him. But the man was struggling so desperately that he started to pull Al under too. Al spotted a large stick floating nearby and smacked the man over the head. That 'calmed' him down so Al could drag him back to the shore.
Every Sunday was Chicken Dinner Day at the Riedmann household. On Saturday evening or Sunday morning, Frances would chop the heads off 2 or 3 chickens, sometimes 4 as the family grew, with an ax over a tree stump. Sometimes Al would do it for her. After the chicken was dipped in hot water the girls would pluck the feathers, cut the chicken open, remove the insides and cut it up. She fried it on Sunday for dinner. It was always out of this world!! She also excelled with her pork roasts and liver dumpling soup. As they sat around the table enjoying their dinner together they would sing the Omaha song.
Together Al and Frances enjoyed going to the Legion hall together. They went to the movies every Saturday night.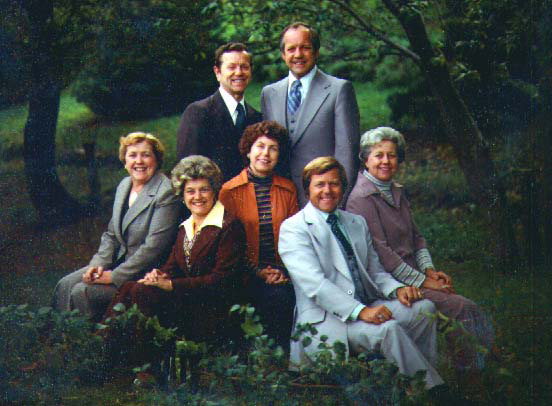 Alfred and Frances' Children:
Madeline (Madge) Marie (9/16/1920 – 7/11/1994),
Irene (Renie) Josephine (1/20/1922 – 10/16/21),
Frances (Fran) Anne (5/26/1923 – 10/16/05),
George Boris (10/5/1926 – 6/10/14),
Alfred (Al) Adam Jr. (6/12/1928 – 2/8/2021),
Lawrence (Lory) John (8/5/1930 – 3/8/1951),
Ruth Ann (4/2/1933 – 1/26/1992),
Louis (Lou) Michael (1/22/1935 – 3/15/2022)
Frances Riedmann died at the age of 57 on May 19, 1954 at Immanuel Hospital. This was 16 days after her son Lou had first child, Louis Jr. (Chip), and about 4 months before Ruth gave birth to her first, Deb. Frances is buried in Calvary Cemetery. She had 12 grandchildren at that time.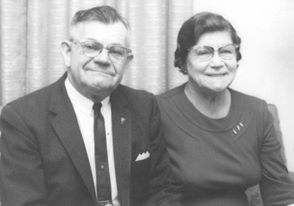 Alfred remarried Frances' cousin Mary Riha Wichita on October 3, 1959. She had lost her husband shortly before and both couples had been good friends. At that time they had 62 grandchildren between them. They lived at 1430 So. 12th St. Mary had 7 children from her first marriage: Marie, Walter, Frank, Arnold, Agnes, Jerome, and James.
In 1964 Al and Mary traveled to Germany and to Stetten, in particular, to search out his father's family. His daughter Madge and her husband Tony and Julie and Frank Riha traveled through the towns Tony had seen during World War II. When they arrived in Stetten they were greeted by his aunts and uncles who were still alive including Johann Riedmann and his daughter Rita, Maria (Sister Enswida) and Mathilda (Sister Iphigenia). They also met many of his cousins including Anton Gerhard, the mayor of Stetten. There was a ceremony held in his honor and to welcome the group, complete with a band. The whole town was excited to have Americans visit, especially a descendant of one of their families.
Alfred Riedmann died on September 19, 1972 and is buried at Calvary Cemetery next to Frances. Al was 77 years old. Later their daughter Ruth was buried next to them. There were 31 grandchildren and 3 great-grandchildren: Wendy Van Moorleghem, James Sobczyk, Jr. and Therese Sobczyk.
Mary died on Al's birthday, May 30, 1989. She is buried next to her first husband.
The Riedmann home on Martha Street still stands, overlooking the Omaha Botanical Garden. It is just south of, and can sometimes be seen when the trees are bare, from the Herb Garden which is on the western end of the Lauritzen Botanical Garden.
Over the years the Riedmann has held four large family reunions, in 1992, 2002, 2009, 2019 and 2023. At the time of the second reunion, the family of Al and Frances had grown to 131 members.
Growing Up at 504 Martha, Omaha, Nebraska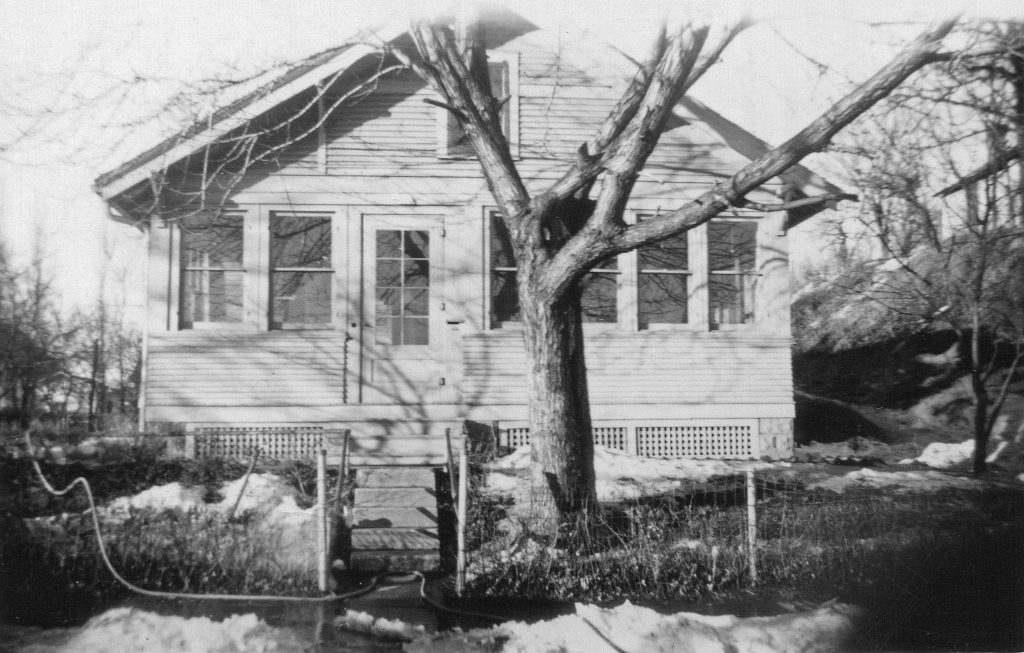 The contents of this portion of the family history are taken from a speech by Al Riedmann at the Omaha History Center on April 28, 2000, and from stories gleaned from other Riedmann family members by Chip Riedmann. To the right is a picture of the family house at 504 Martha St. where the family lived and where all the kids were born. The original house had a porch in front which was later enclosed with the windows and doors you see in the picture. Al and Frances purchased the house in 1921. The house still stands although there has been an addition made to the west side.
The Dahlman Neighborhood
The area in which the Riedmann family grew up is commonly referred to as the Dahlman neighborhood. The area is approximately south of downtown, east of 13th Street and north of Martha St. Dahlman was the Omaha equivalent to the bluffs of Iowa as there were many hills in the area, especially on both sides of 6th Street. While the family grew up there many of the hills were taken down to build the dikes along the Missouri River and more recently for the former downtown ConAgra site. They were filled with dirt from what would later become the site of Omaha Botanical Garden at 2nd & Bancroft. The garden site was known as "stink creek" to the area because a sewer from St. Joseph's Hospital started at 5th Street and meandered from there to the river. You don't want to know what flowed in the creek. As children they played there and near the river whenever they could. The creek was later filled in as part of Omaha's bale-fill project for disposing of trash in an orderly fashion. The trash was compressed into large bales and stacked in the ravine, then covered with dirt.
Lush vegetation abounded in the neighborhood. There were trees of every kind, wildflowers in bloom and weeds grew wherever they could. There was one weed which we referred to as stinkweed that allowed them free fishing bait. Grasshoppers would be found nibbling on leaves and would be almost coma-like which allowed the kids to easily grab them for bait. The boys tried smoking the stems thinking about how it affected these grasshoppers but with no result. If they tried smoking the leaves today that would have been a different story as that weed was marijuana.
This area produced walnuts, mulberries, wild grapes, mushrooms, apples, wild apricots, plums and pears. Wildlife included many deer, foxes, coyotes, rabbits, squirrels, skunks, possums, and other wildlife. There were birds of every kind: woodpeckers, sparrows, wrens, canaries, doves, redwings, blackbirds, bluejays, orioles, meadowlarks, hawks, pigeons and others. During the depression having this wildlife and vegetation nearby was one source of food for the Riedmann family.
Living in Dahlman
The Riedmann family had 8 children living in a 2 bedroom house. They slept 3-4 in a bed and all shared one bathroom (can you imagine children of today living so close). They would repair their clothes and shoes and hand-me-downs were a fact of life. New clothes were unthinkable. They heated water on the stove for washing dishes and cooking. On wash and bath day they would light the water heater. One of the kids would need to stay home from school to feed the animals, help with the wash and haul clothes out to hang dry (or to the basement in the wintertime).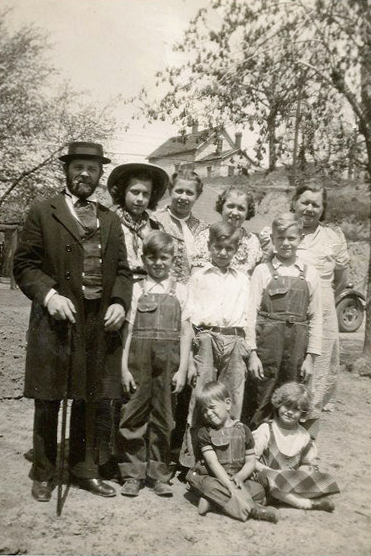 Growing up in their part of the Dahlman area everyone knew everyone else by their ethnic makeup. Being both German and Czech Al and Frances were a bit of a rarity as back then most never married across ethnic barriers. Their neighborhood was composed of mostly Czechs, Italians, Polish, Irish, German and one black man. It was very common to know each other by their ethnic slang names; ethnic differences and habits were a way of life. In fact, the Catholic schools (Dahlman was predominately Catholic) you attended were sorted by ethnic background: Assumption, St. Wenceslaus, and 3 others- Czechs or Bohemians, St Joseph's and St Ann- German, St Patrick's – Irish, and St. Philomenia – Italian. Since the kids were both German & Czech, their parents couldn't agree on where to send them so they attended St. Patrick's, the Irish school. Later on, a new Bishop was appointed to Omaha and divided the parishes and school districts geographically to end the ethnic separations. Boy, did that shake up the neighborhoods!
Many famous people grew up in the neighborhood. Some would be their childhood friends. These included Tom "Train Wreck" Novak, a great football player at the University of Nebraska; the Dusek brothers who would later become famous in the early days of professional wrestling, long before the WWF; U.S. Senator Roman Hruska; the Dworak family which produced an Omaha mayor; Omaha Fire Chief Warsocki who was a friend of Lory's; and the Caniglia family which is famous for all the Caniglia family steakhouses they opened in Omaha.
What's for Dinner?
Since most of their childhood was during the Depression, everyone had large gardens and fruit trees. Everyone canned foods and bartering was a way of life. Some of the most common vegetables were: green & yellow beans, beets, peas, corn, tomatoes, and their juice, and pickles (dill, sweet, bread & butter). Canned fruits were cherries, peaches, apples (and applesauce), and pears (and pear sauce). All of this was mostly grown right in our neighborhood.
Hunting for food was part of life. They ate squirrels, rabbits, pheasants and a deer if you could get one. They raised and ate chickens, ducks, and rabbits & had laying hens for eggs.
Home delivery of food was alive and well. The bread man, milkman, ice man and fruit peddler were all regular visitors and a source of groceries. They also walked down to the dairy at 4th and Bancroft for gallons of skim milk every other day. Their parents would go to the grocery store somewhere downtown on Saturday.
The Germans were known for making their homebrew in their basements which would then be traded with the Italians who were the winemakers of the area. It was not uncommon for the kids to have a sip of wine or a glass of beer on special occasions.
The Italians in the area had a tradition back then of serving "tomato-bread". This consisted of flat pieces of bread that were used to check the temperature of the ovens. Rather than throw it out they would pour tomato sauce over it and add other ingredients to make it tastier. This dish later came to be known as pizza.
It would not be uncommon for the kids to come home and find what was referred to as a "bum" eating a sandwich in their backyard. They were never allowed in the house but they were a common sight and always fed. Bums were no one to be afraid of, just someone temporarily down on their luck and traveling through.
Working
The boys sold magazines at St. Joseph Hospital five evenings a week. They also had routes that they delivered as far away as Bemis Bag and the Old Market area. As they got older they would work at the pop plant. Some of their earnings had to be given back to their parents for rent money to live in the house. Everyone had to pitch in to help pay the bills. The funny part was every time their dad would give them a raise, the rent would go up too.
The kids would also haul coal for the neighbors, work at the post office, shovel snow for the railroad, and work at the brewery or bottling plant…wherever and whenever they could.
Along with the peddlers bringing food, the junkmen would also come by and buy scraps of brass, iron, copper or aluminum that the families would gather (mainly from the dumps in the area).
Utilities
There were only 2 phones in the neighborhood of which they had one. Neighbors would knock on the side door, give their mom a nickel, she would dial the number they needed and hand them the phone out the window. No one received calls unless it was a dire emergency.
Their basic utilities consisted of wood, coal, gas and enough electricity for lights. Some neighbors had to use a water cistern which was filled weekly from the fire hydrant for water. They were fortunate enough to have their own water system. Some homes were without electricity from time to time and would use oil lanterns.
The home at 504 Martha used a coal furnace for heat, complete with a coal chute. Heating systems in the Dahlman neighborhood graduated over time from a wood stove to a coal furnace to an oil furnace and finally gas. Thank goodness because the coal bins were messy, scary and lots of work.
Transportation
The family would walk to the street cars which would pick them up at 6th, 10th, 13th, 16th or 24th, where they could ride 3 adults for a quarter, or 6 kids for a quarter. Other transportation consisted of wagons, tricycles, and scooters (almost like skateboards but made of wood and old roller skate wheels). Some even had bicycles.
The biggest prank for the boys was to disconnect the trolleys. Back then the trolleys were electric and they were powered by an electric wire that ran overhead. There was a connecting device that extended from the top of the trolley to the cable. The usual prank was for one person to try and distract the driver while the other would sneak up behind the trolley and pull the rope that was attached to the connecting device. When the driver would try and resume his route there'd be no power. Boy, would he be mad and start hollering at the boys. Of course they would be long gone by this time.
Later the family owned a Nash automobile. The family would occasionally pile into the car and go all the way out to Elmwood Park for a family picnic. At that time, Elmwood was on the western edge of Omaha and almost out in the country. They would sing songs as they rode out there. Their mom would pack up a big meal, including fried chicken to enjoy while they were there.
Playing
There were hardly any paved roads and few cars back then so the kids played in the streets any time of the day. They played: run sheep run, hide 'n seek, kick the can, Simon says, hopscotch & marbles.
There were, of course, the usual childhood pranks, such as filling a paper sack with something rotten, such as old eggs, placing the sack on the front porch of a house, lighting the sack on fire, then ringing the doorbell and running as fast as they could. When the homeowner would come out he would immediately see the fire and begin to stomp it out. By that time it was too late to realize what had just happened and the smell would be atrocious. What a mess it would create.
When the WPA was installing culverts in the area in about 1938 Al remembers sneaking down and putting his initials and marbles in the wet concrete. Decades later, when Al worked on the Botanical Garden committee he continually searched the area during construction for evidence of those pranks. He always searched not thinking that with all the time and changes that took place since he had played there that he would be able to locate a piece of concrete with some of his handy work. One day, there it was. A worker found a chunk of concrete with some of his marbles still in it! That was really an emotional find for Al that took him back 60 years.
More history of the Riedmann family can be found in the Riedmann family cookbook printed for the 1992 family reunion, or on the Riedmann Family Cookbook website. Many stories were written by family members in recollection of their younger years. Some of the stories will provide more detailed information to some of the above stories. To leave this page and go to the Cookbook/ Memories page click here.
The roots of a family begin with the love of two hearts. – unknown