On Saturday, September 28th and Sunday, September 29th in 2019 over 70 Riedmanns gathered for two days of celebrating family. Saturday a hearty group of football fans attended the Nebraska Cornhusker vs. Ohio State Buckeyes football game in Lincoln. On Sunday everyone gathered at the Lauritzen Gardens in Omaha, Nebraska. Thank you to all of those who helped make the reunion a big success, especially Uncle Al Riedmann for getting the ball rolling to get everyone together.
At the Garden everyone enjoyed a lunch supplied by Hap Abraham Catering and a tour of the amazing grounds, especially the Herb Garden which contains many brick pavers engraved with the names of family members. Those of us living in Omaha were happy to see many of our relatives come back for the event and the opportunity to catch up on what is going on in the family.
In addition to the event, many contributions were made by family members for an addition to the Herb Garden. See the Riedmann Reunions page for details and pictures. A brick was also included to commemorate the occasion.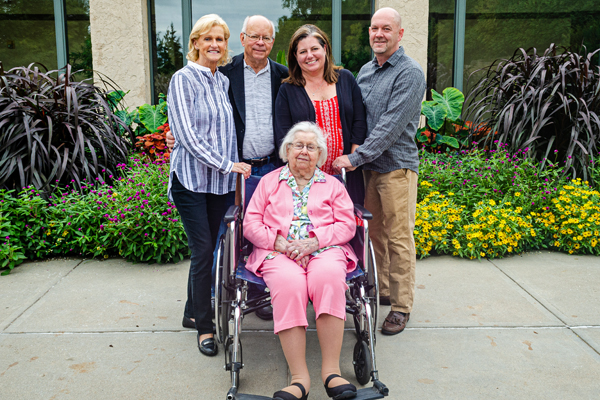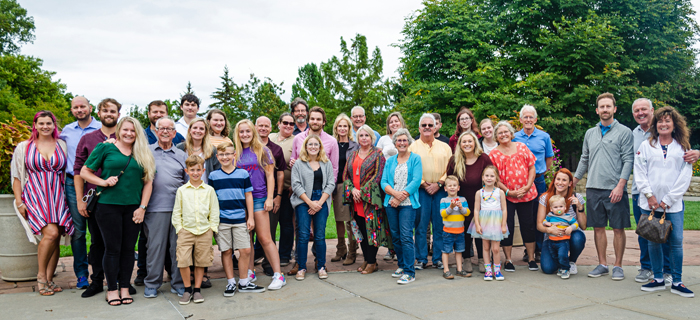 Below is invitation to the invitation to the 2019 event. Click on the image to see the invite.
Your Riedmann Reunion 2019 Committee:
Al Riedmann, Mike Riedmann, Lisa Lackovic, Chip Riedmann
With assistance from: Rob Panowicz, Nicole Bourquin, Kathy Kemler
The committee worked hard to make the 2019 reunion a simple and enjoyable event at the Omaha Botanical Center which is just down the hill from the original Riedmann family home where our elders grew up. Over 70 people attended the reunion. All enjoyed the beautiful fall day.
See the Riedmann Reunions page for pictures of the beautiful planter and plaque donated by the family. We appreciate the assistance of Rosemary Lebeda at the Lauritzen Gardens for her help and patience handling the donations.
We all look forward to the next reunion and hope to see you there!