This page is dedicated to our deceased family members.
You'll be in our hearts forever.
In Memory of Lawrence John Riedmann
1930-1951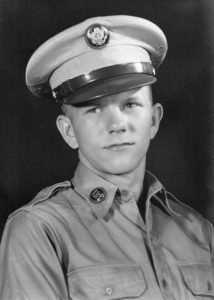 Lawrence, or Lory as he was called in the family, was born August 5, 1930 on Al and Frances' 11th wedding anniversary. He attended St. Patrick's Grade School and South High School. After school he drove a truck and delivered pop for his dad at Willow Springs. His customers were fond of him. His older brother Al took over his route for him after he was called up into the Army to go to Korea. Al said all the customers remembered him when news came out of his death in the war.
Lory was a carefree and fun-loving young man, with an ornery side that could get him in trouble. But because of his pleasing personality it was hard for people to get mad at him. He would tag along with brother Al and occasionally double date with him and his girlfriend, and future wife, Shirley. They use to go roller skating quite often. He also loved swimming at Peony Park and would attend dances there. He met Birdie Marsh and was dating her before he was called back into active duty. Actually, he may have had a couple of girlfriends when left as one of his letters home hinted at. He had a 1949 Chevrolet Styleline Deluxe that he use to drive and was very proud of. It was given to his brother Al when he left for Korea.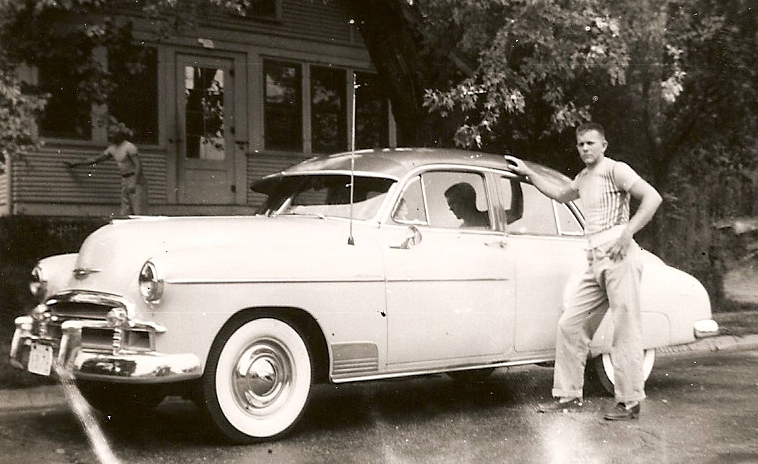 He originally enlisted in the Army in 1948 with the help of his mother. He was never fond of working at the pop plant and wanted to get away. After basic training at Fort Sill, Oklahoma, and his first tour he came back home. He was listed a truck driver and was trained in artillery. He was later recalled to active duty early in the Korean War on September 28, 1950. Lory was 20 years old. He drove his Chevy up to Fort Lewis where he was assigned. He was shipped to Korea on December 23rd originally as a cook in an artillery battalion. He arrived in Korea on January 1, 1951, shortly after the Chinese entry into the Korean War and the American retreat from the Chosin Reservoir and North Korea. He was transferred to the 2nd Division, 23rd Infantry Reg, E Company after he arrived in Korea. He fought during Operation Ripper, the UN counterattack to push the Communist Chinese forces back to the 38th parallel. He fought in the famous Battle of Chipyong-ni three weeks before he was killed. This battle is regarded as the Gettysburg of the Korean War and was a major turning point in the war. His regiment earned the Presidential Unit Citation for their victorious stand against overwhelming Chinese forces.
Lory was killed in battle on March 8th, 1951. His company (Easy Company) was responsible for taking several hills outside a small village called Yangjimal. The hills were occupied by the North Koreans. He received the Purple Heart for his fatal injury. His parents, Al and Frances, were notified a month later by telegram on April 8th. Al was at work at the pop plant at 13th and Jones when the telegram came. The messenger who delivered the telegram stayed while Al read the letter and made sure Al was okay before he left the plant. Al called his daughter Frannie and asked her to go be with her mom at the house at 504 Martha. He then called the kids and told them about Lory. He asked that they wait until he went home and told Frances himself. The minute he walked in the door Frances knew it was about Lory. Al's face was white. In an eerie premonition both his mother and his sister Irene had nightmares about Lori dying around the time of his death.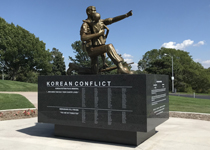 Lory's body was returned to the United States. A Mass for him was held first at St. Patrick's Church on 14th and Castelar. He was taken to Fort Leavenworth, Kansas where a Requiem High Mass was held on October 15th and he was buried in the base cemetery. His grave site is at grave 300 C Station B. His mom wanted him buried there to be with the rest of his buddies whom he served with. His name can be also found on the Korean War Memorial at Memorial Park in Omaha. Lory posthumously was awarded a Purple Heart and received several other medals for his service. His nephew Chip has the flag which was draped over his casket and presented to his mother at his funeral. He has accumulated the medals Lory earned for his service. May he rest in peace.
Lory's Story is a compilation of his life leading up to and his experiences while in Korea. The story covers the battles he fought, including the battle he participated in on his final day, and the conditions he would endure while there. His story has been researched and documented by his nephew Chip Riedmann and can be viewed by downloading Lory's Story here. Some information needs to be updated as more information has been discovered. The story will be updated at some time.
In Memory of Ruth Ann Riedmann Elsasser
1933-1992
Ruth was born on April 4th, 1933, the seventh of eight children. Growing up in South Omaha she attended St. Patrick's grade school and South High School. She met Gene Elsasser when they were both 13 years old. He was a paperboy in the area and with her mom's permission he would stop back at the Riedmann house to visit her after delivering his paper route. He would propose to her years later. They were married shortly after high school on June 22, 1953. They would soon have three children, Debbie, Gary and Dale.
They both enjoyed being outdoors and going camping. The family would go on trips to Harold's Cabin in Okiboji or wherever their journeys took them. Many times with no particular destination. They also took trips to Olympia Washington to visit the Panowicz.
Ruth would go to work at John Opitz car dealership after high school for a short while. She also had a daycare. Gene worked as a camp counselor at Sheldon Summer Camp. Gene and Ruth later started Aspen RV Center on 126th & West Dodge which made sense; anything that involved the outdoors was good for them. Ruth would occasionally travel to Elkhart Indiana with Gene to pick up an RV or a camper to drive back to Omaha with Gene following in another RV or camper. Eventually, Ruth went to work for Ferrellgas till she passed away. She loved working for the company and when she was told she would have to transfer to Kansas City she took the offer. She started as a bookkeeper and would advance to an auditor position in the company because of her good work ethic. She was very well-liked by everyone in the company.
For those of you that knew Ruth, you know that she loved children, golf, a Windsor Press, a cold beer by the water or on a boat, football games, shopping anywhere, traveling, or at home entertaining family and friends. She had fun with whatever she was doing. Together the family would enjoy water skiing. snow skiing and the biggest adventure was hot air ballooning.
For those of you that didn't know Ruth, she was one heck of a lady and one great Mom. If she was alive today should still be doing all the things she always did. She would probably be retired but busier than ever. She would be doing some traveling with her family and spending a lot of time watching her grandkids grow up.
Ruth left Gene around 1984 or 85 to start a fresh life. Unfortunately, she found she was in the late stages of ovarian cancer in February 1990. It had advanced too far for much to be done. She was still living in Kansas City at that time and her children would travel down to be with her as she underwent chemotherapy. She fought the battle for two years before finally leaving us at too young an age on January 26, 1992. She is buried at Calvary Cemetery next to her parents on the north side of the cemetery. RIP
In his later years Gene suffered a head injury which left him in a coma for a while. He suffered brain damage from the accident and was moved to a care facility for the last years of his life. After a rich life of exploring the great outdoors with his family he passed away on September 27, 2020 after fighting a long illness. He was buried at Westlawn Hillcrest Cemetery. Her obituary can be read here.
In Memory of Madeline Marie Riedmann and Anton Richard Panowicz, Sr.
1920-1994 / 1918-1997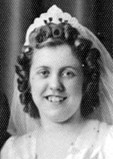 Madeline "Madge" Riedmann Panowicz was born September 16, 1920 to Alfred and Frances (Vacek) Riedmann in Omaha, Nebraska. She was the oldest of eight brothers and sisters. She grew up in Omaha attending Train School, St. Patrick's Grade School and South High School. She was a talented seamstress and won first place in the Nebraska High School Sewing Contest. She babysat in the summers, starting at age 12. She could cook and bake as well as her mom.
Anton "Tony" Panowicz was born on February 7, 1918 to John and Victoria (Pruss) Panowicz in St. Paul, Nebraska. He lived through the Great Depression and saw the Dust Bowl era firsthand. He graduated from St. Paul High School in 1935. Tony eventually joined the Grand Union Tea Company of Omaha, Nebraska acting as sales manager for crews of salesmen covering the states of Nebraska, Iowa and South Dakota.
On Sunday nights Madge and her sister Renie would go out to meet boys and dance at either Sokol Park, south of Omaha by the Platte River, during the summer months and Sokol Hall on 13th Street during the rest of the year. This was despite the complaints of their father. Their parents would also attend, probably to keep an eye on the girls, and visit with friends and other members of the family. Their dad enjoyed the beer and their mom loved to visit the Vacek family. Madge met Tony at a polka dance held at Sokol Park. His first dance was with her sister, Renie, much to the dismay of Madge who already had her eye on him. Being the older sister she let Renie know that he was hands-off.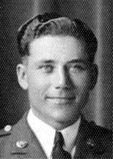 Tony was drafted into the service at the start of World War II and sent to boot camp in Little Rock, Arkansas. Madge and Tony wanted to get married before he left, but there was not enough time to arrange it. Her mom promised they could get married on his first furlough. The furlough came through at the end of June when he was to be sent to Officers Candidate School in Fort Belvoir, Virginia. He was given a 10-day leave. It took Tony 4 days to hitchhike back to Omaha. He arrived the day before the wedding. Madge had a wedding shower, bought her dress and made arrangements for the wedding in that short time. Madge and Tony were finally married on July 5, 1942 at St. Patrick's Church. The reception and polka dance were held at the American Legion Hall in South Omaha. They both left Omaha by train for Virginia 2 days after the wedding.
Before he went overseas he was sent to Fort Lewis, Washington where he and his new bride first became acquainted with Olympia. She returned to Omaha to stay with her parents when Tony left for Europe. Their first child, Rick, was born on March 26, 1944 while Tony was overseas. The first time Tony saw his son was in the fall of 1945 after he was discharged from the Army.
Major Panowicz was in the 1104 Engineer Group, XIX Corps that ultimately stormed Omaha Beach in Normandy as part of the fourteenth wave on June 12th (assumed). The Corps fought through France moving first through St. Lo, then through Belgium, into Germany and finally Berlin, participating in the defeat of Nazi Germany. Tony arrived in the Ardennes Forest two days before the Germans launched their Ardennes Offensive which we call the Battle of the Bulge. He directed the construction of the first bridge over the Rhine River into Germany and other rivers including the Ruhr River. He was awarded the Bronze Star for meritorious service and five campaign stars for Normandy, Northern France, Central Europe, the Rhineland and the Ardennes during his 23 months of service. A map of their journey to Germany can be seen here.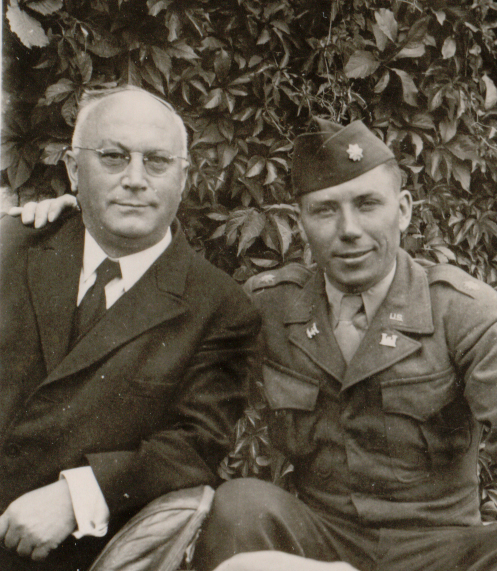 While in Germany Tony took the opportunity to search out Fr. Alois Riedmann who was Madge's great-uncle. Alois was in hiding during this time of the war as Catholic priests were always at risk of persecution. When Tony reached the town Fr. Alois was in he began asking the townsfolk where he could find him. They were very reluctant to help him as everyone was suspicious of anyone they didn't know, especially a soldier in uniform. He was directed to an alley with an iron gate. He called out for Fr. Alois who eventually appeared but was very hesitant to talk with him. After Tony explained, in great length, who he was and that he was married to a Riedmann in America Fr. Alois let him in. They eventually shared a glass of cognac and had this picture taken.
Upon returning home for the war Tony and Madge remembered their early 40's stay in Olympia and returned for good in 1946. Madge really wanted to stay in Omaha and be with her family. She cried half the way to Washington. About halfway there she called home. Her mom made it clear in no uncertain terms that Tony was her husband and she belonged with him. That settled the matter. Together they opened the "Jewel Box" in 1948 and it eventually became Panowicz Jewelers and Gem Shop. Tony always said how lucky they were to be in a business where they deal with people at the happiest times of their lives. In 1982, after many successful years, they retired and sold the shop to their son Rob.
Tony and Madge had three sons and a daughter: Richard (Rick), Robert (Rob), Russell (Russ) and Ruthann Goularte. They have four grandchildren as of the time of this writing.
The community was very important to Madge and Tony. She always believed that "you must give back what you receive." They were members of the St. Michael Parish, Olympia Yacht Club, Olympia Country Club, Olympia Opera Guild where they helped several people with their careers and the Washington Center for Performing Arts. She also was also active in the Saint Agatha Guild, Catholic Youth Organization, Catholic Daughters of America, and Rosarian Guild. Tony was also active in the Fraternal Order of Elks, the American Gem Society, Rotary, and the Knights of Columbus. He was a past president of the Washington State Jewelers Association and was on the boards of Saint Martin's College, the Salvation Army, Heritage Park, Retail Jewelers of America, and the Washington Center for Performing Arts. Tony was honored by the Masterworks Choral Ensemble for outstanding contributions to the Arts and to the community.
Tony and Madge, besides their many friends and family, enjoyed traveling and had done so extensively over the years. She would help out occasionally at her daughter Ruthann's store, Drees. When not helping someone, or traveling, Tony and Madge could be found on their beloved boat, "Mona Lisa".
Madge died of cardiac arrest on July 11, 1994, six days after their 52nd anniversary. She was an optimist and had a strong desire to help young people get ahead. She also remembered how hard it was to be a newcomer in Olympia and liked to help people meet each other.
Tony died of lung cancer on January 5, 1997. Tony will always be remembered as an upbeat person who was a pillar of the Olympia community.
In Memory of Irene J. Riedmann and Clement Julius Van Moorleghem
1922-2021/1922-2001
Irene, or Aunt "Renie" as she was called by all her friends and family, was born January 20, 1922 at her childhood home at 5th & Martha. She was the second oldest of the eight children of Alfred and Frances Riedmann. Like all her siblings, their mother gave birth to her children at home in the front room. They didn't have the money to pay for a hospital stay. Like all her siblings she attended St. Patrick's Elementary School and South High School.
After high school Irene went to work at F. W. Woolworth in South Omaha and worked her way up to assistant manager and window trimmer. She worked there till the time came to start a family. Irene and her husband Clem were blessed with a large beautiful family. Their children are Dennis (Denny), Wayne, William (Bill), Susan (Sue), Sandra (Sandy) and Scott. Irene especially was devoted to her immediate and extended family including her Aunt Millie and all her nephews and nieces. Renie fulfilled the role of a classic stay-at-home mom as well as any mother on the planet. She tended to everyone's needs and handled any storm they would confront. In her spare time she was known to go to the family-sponsored herb garden at the Omaha Botanical Garden during the day and pick weeds and help keep the area presentable. The back of her childhood home overlooks the western end of the Gardens and particularly the herb garden which holds many brick pavers etched with the names of many family members. This is before it became the Lauritzen Gardens.
"Clem" was born on September 6th, 1922 in Underwood, Iowa. He answered to the names of "Babe" as a youth, Van in business, Clem to his wife, and dad to his children. His family owned a farm at the time he was born and moved to Omaha when he was 9 months old. He was the youngest of five children. His parents were Rene and Laura Van Moorleghem from Ingooihem, Belgium. His brothers and sisters were Hazel Van Moorleghem Miller, George, Ambrose, and Jerome. He attended St. Mary's and Corrigan Grade Schools and South High School. His father was a carpenter and Clem helped him build three homes after work for himself, Irene and their children. The first was at 3702 U St in 1923 where it still stands today. While growing up during the Great Depression he was a paperboy for the Omaha Bee News and a caddy at Happy Hollow Country Club. He gave everything he earned to his Mom to help pay the bills. She would give him a potato that admitted him to the movies on Saturday plus he received a nickel for an ice cream cone. It was the highlight of his week. He worked at F.W. Woolworth Co. in South Omaha during his senior year at high school for credits to graduate, going to school in the morning and working in the afternoon. He started as a stock boy (stocking storeroom shelves plus receiving freight). In 1941 he was made an assistant manager.
Irene met Clem while she also worked at F. W. Woolworth. While they dated they would go dancing at Sokol Hall much to the disapproval of her father. He enlisted in the Army Air Corps on November 3, 1941 before the start of World War II. He served three years. He was a gunner, flight engineer and mechanic on the B-24 Bomber, also known as the "Flying Boxcar". They became engaged before he left to serve our country. They were married July 10, 1943 in Harlingen Texas, Clem was in gunnery school at that time and asked Irene to come down and visit during his first furlough. Irene did not know until she arrived that he had already talked to a priest to arrange their wedding. They called both their moms to tell them of their decision to marry. Irene's sister Fran was the maid of honor and Clem's best friend Wayne Ross was the best man. He had to be back on base the next night, so there was no honeymoon. After the war he belonged to the American Legion South Omaha Post #331 for 57 years.
When the war was over Clem went to work at Miller Pontiac in the parts department, then as a manager for Marlin Associates, which later became United Electric Supply Corp. United Electric is a retail and wholesale company that specializes in light fixtures and electrical supplies. It was called United because it was formed by several electrical contractors that felt they weren't getting the best pricing from suppliers. They united to create their own supply company. Clem was the manager from day one and had free reign to run the business as he felt was best. With the support of the owners, Clem built the company up from a small business originally at 46th and Dodge to today's operation in west Omaha, which has the largest showroom in the Midwest and is the largest electrical supplier to the Omaha homebuilding industry. Over time he invested in the company to become an equal shareholder with the other owners. He worked there 45 years, up until the time of his death. He was remembered by many of his customers and other business friends as very loyal, honest and a true friend. After his death Irene assumed his position on the board.
Their first house was at 54th & Sprague St in north Omaha and they next moved to 43rd Ave & Spring St in South Omaha, not far from the next house most of her children would grow up in at 4659 Frederick St. Most of the family remember this house as many family gatherings were held there. They lived there till 1988 when they moved to their new home on So. 102 St. overlooking the Johnny Goodman Golf Course.
They both loved music, especially Frank Sinatra and big band great Glenn Miller. Renie also loved polkas. When the family hears Frank Sinatra, they automatically think of their dad. In her later years Renie would enjoy visits from an accordion player and a polka dancer who would entertain her in her home. And speaking of music, her children remember the frat parties Denny and Wayne would have during their college years. The parties would involve 40-50 young adults, bands and beer, all crammed in their basement. Somehow Renie kept the neighbors from calling the cops. Clem wisely would let Renie handle the chaos. Clem also enjoyed fishing and was a natural at golf.
Irene loved to collect angels and her house was filled with them. She also accumulated a large collection of Dickens Christmas Village pieces which she proudly displayed around the house during the holidays.
In 1963 they purchased a small cabin on Hansen Lakes south of Bellevue. It sat up on a hill overlooking the lake with a small beach at the shoreline. Over the years it played a pivotal role for the entire Riedmann family as many family events were held there. Every weekend you could find a family or two visiting, with the beach overrun by their children and their nephews and nieces. Renie handled it all in stride and kept order in the house, making sure meals were prepared and served. Over the years improvements and remodeling projects would upgrade the cabin to a nice home away from home with bedrooms and more rooms for entertaining.
Clem passed away on March 18th, 2001. As of 2002, they had 21 grandchildren, and 5 great-grandchildren, including step-grandchildren. He was buried in Calvary Mausoleum after a Mass at St. John Vianney Church in Omaha.
After Clem passed Renie assumed the role of family matriarch. She maintained a close friendship with many family members, including the extended family, that will never be forgotten. She was also a mentor and confidant to many. Over the years she would take any call or talk to anyone to help them with any problem they would have. She always knew what to say. Ans she loved to talk. She opened her house for her family on Wednesdays for dinner. Everyone was welcome and a big feast was served. It soon became known as Irene's Cafe and you never knew who would be there.
Renie was fortunate to spend the last years of her life at home under the care of her family and the watchful eyes of many wonderful homecare givers who attended to her needs. Over time they would almost become part of the family. She was a devout Catholic and received communion courtesy of St. John Vianney church every Monday. In one of those lucid moments we hear about at the end of one's life, Renie spent her final day at home speaking with all her children before she passed away. She succumbed to a short fight with dementia on Oct. 16. 2021 at her home after 99 years and 9 months of a blessed life. Forever a religious woman she was visited by the parish priest and received communion and last rites on her final day on Earth. By the next morning she was in heaven with the love of her life, her husband Clem, and her son Bill. She is buried with Clem at the Mausoleum at Calvary Cemetery. At the time of her passing her family had reached 19 grandchildren and 31 great-grandchildren. An amazing legacy by a simple yet complex and big-hearted woman. Her obituary can be read by clicking here. Truth be told, many of the stories told on this page came from our Aunt Renie. She provided a wonderful resource of the family's history and legends. She will be greatly missed. May they both rest in peace.
In Memory of Frances Ann Riedmann and Robert Garvin
1923-2005 / 1916-2004
Frances was the fourth child of Alfred and Frances. She was born May 26, 1923 in Omaha Nebraska. She was the second child born in their longtime home at 504 Martha. As a child she attended St. Patrick's grade school and South High School.
Frannie, as she was called by her family, enjoyed roller skating as she grew up. While in high school she worked at F. W. Woolworth in South Omaha, starting at the candy counter and eventually moving up to the make-up counter. Looking back it is little wonder that she would succeed in any endeavor which involved working with people. Fran was always an outgoing person who could quickly charm the socks off all whom she met, drawing them to her because of her open heart and pleasing personality. She was also not afraid to take risks. Fran would next work at the downtown Borsheim's until she and Liz Danford went into business together in a Handy Dandy Grocery store around 43rd and Leavenworth. This was in the 1940s when businesses could only be open 6 days a week. Many stores closed on Sundays, except Fran and Liz's store. They decided to close Saturday and stay open on Sunday. This shrewd little move allowed them to become successful as that is when they made most of their profits.
Fran met Chet Quistad while roller skating at the rink on Leavenworth Street. They married and had two children, Dan and David. After several years she met Bob Garvin and dated him for some time with no one aware of it. She filed for divorce from Chet around their 11th anniversary. Her father was quite upset about it as divorce was very rare back then and even more so if you were Catholic. After an argument with her father she got back together with Chet for one week, then moved out of town with Bob, the boys and Bob's daughter without telling anyone. They moved first to Reno for a short time, then to Olympia for a few months. They next moved to California for good with Bob and the boys. Bob's daughter was sent back to Omaha to live with her mother. They settled down in Santa Barbara. Her mind was set. She loved Bob and this is where she was going to stay. It is said she visited Santa Barbara when she and Chet went on their honeymoon and that is where Fran fell in love with the area. she wanted to move there permanently. Chet said no and they stayed in Omaha. Bob, however, must have thought it was a great idea. Her family was crushed by what had happened. It was almost 16 years before they came back to Omaha.
Fran also wanted to have a girl but after several miscarriages they had to stop trying. The doctor warned her not to have any more children because it could kill her. She took it very hard.
Fran was very independent and very focused in her thinking. She knew what she wanted, or wanted to do, and got it done. This may explain a little of her actions in her move away from Omaha and the successful business acumen she later developed. She and Bob worked for many years for Camping World as ambassadors. At that time Camping World was a small company in southern California specializing in the sales of RVs. With the help of Fran and Bob the company grew to a coast-to-coast business selling RVs and camping supplies. They traveled the country and visited any campground or camping facility they crossed to leave information about Camping World and the products they sold. They would visit with people who camped to tell them about the company and build goodwill for the company. This proved very successful for everyone.
Bob loved fishing, sometimes going to great lengths to provide the opportunity for getting out. He even bought a boat, under the guise of becoming a sailor of sorts, in order to get the whole family out on the water. But they knew better. Unfortunately, the launching of the boat was not the pleasant experience he desired. Both times in fact. But that is a story for his sons to pass on.
Dan and David said Fran loved McDonald's, a lot. There was a restaurant near her and she went there every day and had a chicken sandwich. They also laugh about how scary it was to ride with her in the car. Seatbelts were mandatory when she was driving long before the federal government became concerned about safety. She didn't have to say a word, everyone knew if they wanted to survive the drive they had better buckle up!
Bob passed away on October 31, 2004. On October 16, 2005, just two weeks short of one year later, Fran passed away. On November 5, 2005, after a mass at St. John Vianney, Fran was buried next to her husband Bob at the Calvary Mausoleum in Omaha. Her obituary can be read here. They were survived at this time by their two sons and their wives (David and Kathy, and Dan and Janet), four grandchildren and 2 great-grandchildren. Looking back it can easily be said that they were made for each other. They lived happily together and apparently couldn't bear being apart for too long. Now they are together again.
In Memory of Mary Pat Riedmann Greene
1955-2009
Mary Pat was born on October 25, 1955, She was the 3rd of 5 girls. She attended Mercy High School and the College of St. Mary. She received a degree in early childhood education. Mary Pat was the loving mother of 3 children, Tricia, Daniel and David. When not raising her kids she was a long time employee of Blue Cross and Blue Shield.
Mary Pat was the "quiet one" until she got to know you. Even then, she was a woman of few words. Every now and then a comment would come zinging out and you'd think "Where'd that come from!" She led the family in dancing "the Locomotion" at every wedding reception. That was the fun, outgoing side of Mary Pat. Usually, she didn't like to be the center of attention. She was also a great confidante. She never revealed what you told her and that was true all of her life. She was always Dad's favorite; the one who got to paint with him, who worked the longest at the bottling plant with him, the one who helped him at the rental property. Her nickname was "Mary Pet" to her sisters.
She was a great mom. Always there to help the kids up when they fell (or failed), but strong enough to let them take the fall in the first instance, so they could learn the consequences. She had a great relationship with her kids, always ready to listen but slow to criticize.
She was diagnosed with breast cancer in August of 2007 and treated until mid-2008. She was a very faith-filled person; and strong-willed. Sitting in her hospital room after her lung biopsy (which later came back normal) she was asked if she had hit the point of asking "Why me?" Her response was "Not really. Why not me? A lot of women have breast cancer." She took her disease on without complaining. All the signs were that she had it beat but then was told it had metastasized to her liver in February of 2009. She passed away on September 19, 2009. Her obituary can be read here. She is buried at Calvary Cemetery in Omaha. May she rest in peace.
In Memory of Louis Michael and Sharon Mae (Whitson) Riedmann
1935-2022/1947-2012
Lou was the youngest of eight and was born January 22, 1935 in his parent's house in South Omaha like the rest of his siblings. He attended St. Patrick's Catholic Grade School and Omaha South High School. He met his first wife Janet Watkins in high school. He did not marry her immediately, first traveling to Olympia Washington to live with his oldest sister Madge and her husband Tony. He attended St Martin's University in Olympia for one year before he decided college wasn't for him. He moved back home in 1953 and had a decision to make. He knew he was going to marry Janet, but wasn't sure where he was going to work. He had the choice of working with his father and two brothers at Willow Springs Bottling or his father-in-law Charlie Watkins at Watkins Concrete Block. He grew up working at the pop plant and knew what awaited him: long hours, low pay, little respect and less opportunity. At Watkins, he saw the possibility of working at a growing company with fewer of his concerns about the pop plant. So, after marrying his high school sweetheart Janet Watkins, he went to work at Watkins at the south Omaha location at 4215 R St. Lou and Janet had five children during their marriage: Chip, Beth, Gayle, Joyce and Lisa. The marriage ended with a divorce in 1964. He received custody of the children and later moved to west Omaha in the mid-70's.
During this time Lou became a part owner of the block company with Charlie and his two brothers-in-law, Chuck and Bob Watkins. Lou worked his way up in the company eventually becoming president in 1972. Lou was instrumental in every step of the growth at the south Omaha location and the future Sarpy County location from the design of the manufacturing plant and office to purchasing the truck fleet and other equipment. When Watkins opened their operation at 144th & Giles there were few businesses in that part of the county, but he and his partners had the foresight to see the growth of the Omaha metropolitan area in that direction.
Sharon Mae Whitson was born the second of three sisters on December 8, 1947 in St Paul, Minnesota to Allan and Phyllis Whitson. She had two sisters named Kathy and Sandy. The family moved to Sioux Falls, South Dakota in 1948 because her dad was given a new sales territory for the company he worked for. She attended Washington Senior High School and worked at Bell Air drug store during high school. She had a '65 Mustang that she and Sandy loved to drive around town. Sharon had the bad habit of peeling out, or drag racing, whenever she went out. It didn't take long and she ruined the tires and had to buy new ones. She never told her dad what they were doing and he wondered why there was an extra pair of tires in the garage. He eventually figured it out. After high school she went to the Stewart School of Hairstyling in Sioux Falls and graduated in 1970. She moved to Omaha in 1971 and worked for Stewart's shop until she opened her own business.
Lou met Sharon during Thanksgiving of 1972 while they were on separate vacations in Acapulco. Though both had different dates for the trip they were attracted to each other when they met. When they returned to Omaha it took Lou six months to get her phone number. He had to get it from the guy Sharon was dating (he had stopped dating her but didn't want Lou to have it). Then Lou was afraid to call her for fear she would say no. He called a mutual friend, Linda Ford, and asked her the next time she saw Sharon to see if she would be interested in dating him. Sharon said yes but the first date was a complete disaster. He brought her down to the cabin at Hansen Lakes for the evening with other couples. A big fight erupted amongst the other couples and it ruined the night. Sharon ended up walking out. She wanted nothing to do with him and wanted to go home. He called her a week later and asked her out to dinner in the Old Market at the French Cafe. She accepted and they had a pleasant evening. Unfortunately, she was still dating someone else and he had to outwait him. Eventually, Lou told her that he wasn't going to wait forever. It turned out the other guy was gay, the relationship ended and Lou was in. There was a short period when they had stopped dating. It was during a time when tennis was popular and she loved to play tennis. Lou's son Chip also enjoyed playing tennis and arranged to meet her and play a few times. This kept her in touch with the family in one way or another. Eventually, Lou and Sharon would resume dating.
Lou married Sharon on August 21, 1976 at a small ceremony (by Riedmann standards) in Sioux Falls, South Dakota. They had a large reception shortly afterward in Omaha on the fifth-floor patio of the Woodmen of the World tower. After the wedding, Sharon moved in with Lou and his family at his house at 147th & Harvey Oaks Ave. His children quickly accepted her as a mom, best friend, big sister or dad's wife. Lou always said it was Sharon who made his daughter's ladies.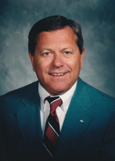 They next moved into a home in Fontanelle Hills in Bellevue in the late 1970s and in 1995 moved to their new home, built over the old cabin, at Hanson Lakes where they spent the rest of their lives.
During this time Lou conducted the research to build a new state-of-the-art production facility at the Sarpy County location. He traveled around the country and to Europe and built the plant in 1979. In addition to the concrete block product line, they also introduced to the Omaha market concrete pavers and concrete retaining wall block. They were nationally considered leaders in these fields. In 1982 the facility expanded with a new state-of-the-art office building and later a large warehouse. At this point the office staff, fleet and maintenance facility was moved from the south Omaha location to Sarpy County.
Lou Riedmann was a leader in every step of the growth of the company including not just the concept of the growth but the details in the construction of the facilities. In the time from when he started working for the company in 1953, Watkins Concrete grew from being the fourth, and smallest, concrete block company in Omaha to the largest in a two-state area. Watkins Concrete's primary focus was the residential market where 95% of home foundations were built with concrete block. In the 1950s and early 1960s, their main competitor in the residential market was Larson Cement Stone, also located in South Omaha. The largest block producer was Ideal Concrete Products which had 50% of the market, mostly in commercial construction. They were located in north Omaha near another producer, Omaha Concrete Stone, which had about 25% of the market. Larson had about 15% leaving the remaining 10% for Watkins. Today they are the last of the four original Omaha companies still in operation. In all fairness, this was the result of the great team of people working in the business, starting with the founder Charles Watkins, his sons Chuck and Bob Watkins, and several managerial and office people that took pride in their work.
In August of 1986 the company was sold to Don Rogert of Hartford Sand and Gravel. Lou maintained part ownership in the company as the Watkins family was bought out at this time. He retained the title of President. In January of 1988 the combined company was sold to Lyman-Richey in the morning and Watkins Concrete Block was spun off that afternoon to NEBCO who still maintains ownership today. Lou retained the title of President after the purchase because of his importance to the company. He knew the office operations, worked with the primary customer base, knew the production facility, the delivery fleet and all the related equipment. In short, he was the glue that held it all together. In 1994 he was made the Chairman of the Board of the company.
Ironically, NEBCO owned Ideal Concrete (called Concrete Industries in its later years). Watkins market share grew in the 70s and 80s with the closing of Omaha Concrete Stone and the shrinking of Larson Cement Stone during that time. Watkins and Ideal were left as the primary companies serving the Omaha market. Ideal was in the process of building a new plant in west Omaha literally across a creek from Watkins. When NEBCO acquired Watkins they merged the two companies and maintained the office, warehouse and production facility Watkins had. Eventually, everyone would be moved into the Watkins facility at 144th & Giles. In retrospect, the only way to overcome the dominance Watkins was developing was to buy them.
Sharon opened her own hair shop on Capehart Rd. in Bellevue on July 6, 1984 named the Hair Hut. She opened a second location 3-4 years later called SR & Co. on Harvell Dr. in Bellevue. Although she had built a loyal customer following, she eventually closed both shops because the strain of running both and doing hair at the same time took its toll. Next, she sold phones but that didn't appeal to her. Diamonds however did. Her sister-in-law Shirley Riedmann helped her get started at Borsheims Fine Jewelry in 1991. While there she took a Gemology class and passed the test to become a certified gemologist in 1997. She eventually became one of their top sellers because of the excellent connections she and Lou had throughout Omaha. With her natural knack for making people feel comfortable she developed a clientele that stretched around the world.
Sharon loved dogs, but Lou would protest as it would interfere with work and their social life. Then Lou surprised her one Christmas with a Shih Tzu named Nickie. She loved Nickie till age took her. Then she acquired another dog named Sasha, then adopted Lucy who kept them company till their days came to an end.
In addition to his business life Lou was also involved in many other organizations including local and national masonry associations, construction organizations and various charitable organizations. Lou officially retired from Watkins Concrete Block on December 31st, 2007. However, he never left the industry as he maintained involvement in several of the above organizations contributing his time and knowledge. Because many of his friends were younger it kept him young through most of his life. He also continued his involvement in the public sector serving on the SID board of the lakes where he lived and proved to be a valuable resource through many difficult times such as the flood of 2019 and floods of previous years. The area would not be the same without him.
Sharon loved her family and friends. She always told her sister Sandy she was adopted just to torment her as only a big sister can. Some say Sharon was a demanding person, but she would tell you she was "uniquely demanding". She loved her bling and her two dogs Sasha and Lucy. She loved anything with dolphins, monkeys and gardening. She didn't like to be alone. She was very outgoing and accepting of people as they were and very giving. She was willing to try anything and get you to try it too. Her family and friends were treated with love and kindness and she pursued all her desires with a passion for success. She enjoyed a full life with a loving husband, a beautiful family, exciting travel, loving dogs and a garden like no other.
Sharon discovered she had cancer on May 13, 2010. In her fight with cancer, she proved she was a trooper and could fight any battle. She wrote up a bucket list of the things she wanted to do before she died and worked hard at achieving them. She traveled to Paris, California wine country, Eddie's Island in Canada, the Atlantis Hotel in the Bahamas, and traveled around the country to see her friends and family in Dallas and Washington DC. God came and swept her soul to heaven with a mighty gust of wind on Good Friday, April 6, 2012. Two fine eulogies were given for her at her funeral. To read Lisa Lackovic's eulogy click here and to read Susan Jacques's click here. Her obituary can be found by clicking here.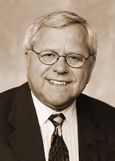 Lou loved Glenlivet scotch, beer from Nebraska Brewing, a good bloody mary or a martini and a great steak with a glass of red wine. His favorite singer was Frank Sinatra who he once saw up close in Las Vegas and would repeat the story anytime it came up. He was always ready for entertaining, a booze cruise on the lake or preform any repairs that were needed around his house, the neighbors or his daughter's houses. With all the family, friends and gadgets he would acquire there was always something that needed his attention. And then a beer with a few stories would follow. Lou loved to tell stories. Although we'll never know how many of them were true everyone loved and laughed at them nonetheless. He also loved flying to Eddie's Island in Canada for many years with his buddies for fishing trips. Although he may not have fished often he would take charge of the menu planning, grocery shopping, cooler packing and cooking up fantastic dinners for the whole gang.
After a short bout with colon cancer in early 2021, which he beat, Lou was diagnosed with congestive heart failure later that year. He put up a good fight for several months before succumbing to the illness on March 15, 2022 with his four daughters by his side. His son Chip, daughter Lisa and grandson Bobby provided eulogies at his funeral. You can read Lisa's by clicking here and Chip's by clicking here. His obituary can be found here. He leaves behind 5 children, 9 grandchildren and 8 great-grandchildren.
They both were cremated and their final resting place is in Omaha at the Resurrection Cemetery outdoor mausoleum facing the fountain. May God's eternal light always shine upon them.
In Memory of George Boris and Elizabeth "Betty" Jane (Farrell) Riedmann
1926-2014/1926-2012
George Riedmann was the first son born to Alfred and Frances Riedmann on October 5, 1926. As were his sisters before him he was born at their home at 504 Martha St. He was named after his grandfather Georg Riedmann. As a young boy he had blonde curly hair. While the color may have darkened the curls never left. He attended St. Patrick's Grade School and South High School. He played in the South Omaha Sons of the American Legion Drum and Bugle Corps. His father was very active in the American Legion, including holding the office of president several times. All four of the Riedmann boys played in the Drum and Bugle Corps. George also like to play the harmonica when he was young and took it with him wherever he went. While at South High he had the honor of being the first male cheerleader for the high school.
During high school George and his brothers worked at their father's pop plant at 13th & Leavenworth. Later the plant moved to 18th & California. They would take a street car from school to get to work. George did buy a Mercury car and motorcycle which he would use to get around. George worked in the plant and his brothers Al and Lory would handle the deliveries.
Between his high school years and before he joined the Navy in World War II George went to work for the Union Pacific Railroad. Then the war came and as soon as he reached the age of 18 he joined the Navy rather than wait for the draft notice and be taken by the Army. George did not want to be in the infantry and his father was in the Navy during World War I. He received his training at the Naval Air Station in Olathe, Kansas and then was later stationed at the Naval Air Station Grosse Ile, Michigan. He worked as a navigator and a radio operator. He would work with the pilots conducting tests with newly invented bombs and drop them on an island to test their design. While he was flying and working as a radio operator his headphones exploded and caused severe damage to his hearing. The Navy supplied him with free hearing aids for the rest of his life. In the fall of 1945 he was promoted to Seaman First Class aviation radio man and transferred to the Naval Air Gunnery School in Jacksonville, FL.
Betty Farrell was born September 27, 1926 in South Omaha to a large, close-knit Irish Catholic family. She was the oldest of eight children. She had two brothers and five sisters. The Farrells lived, shopped and attended church and schools all in South Omaha. Her father, Edmond Farrell was a livestock commission salesman at the Omaha Stockyards all his working years, and his two sons followed in his footsteps. With a moderate income they all attended St. Agnes grade school. The family was regarded as a very strict Catholic family, as most Irish families of the time were. A good deal of the family time was spent at St. Agnes Church. They attended mass, devotions, benediction, novenas, weekly confession and weekly communion which was very unusual at the time, but not for the Farrells.
Betty attended South High School contrary to the family's wishes but there was no money for tuition to a Catholic high school. She worked at Neisners 5 & 10 cent store, as it was called, in the cafeteria department. Betty was later recommended for a position at Prudential Insurance in downtown Omaha at 17th & Farnam where she worked for many years.
She was very close to her sisters as the Farrell family was very important to her. She was a little mother to all her sisters and loved combing their hair. One particular day the neighbor lady cut a little sister's hair. Betty and the sister decided to run away from home. They soon changed their mind as we all do. After the birth of the eighth child her father hired a German housekeeper for 30 days. Betty accused her of being a Nazi agent which was not a nice thing to do at the time. Otherwise, Betty was a good example of being a perfect daughter, so every child would follow her example. When playing house Betty would tell her sisters that she had visions of joining the convent and becoming a nun. They would agree and promise to follow her. As George would say, "It was not to be because of me".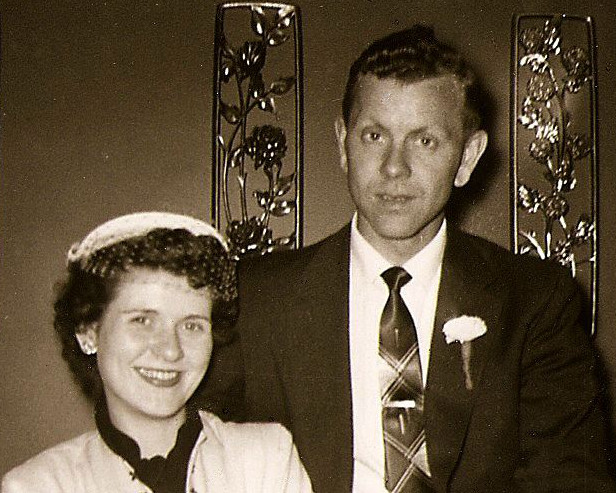 George and Betty met while at South High. They were the same age and had some classes together but didn't start dating until later. She was so bashful and had no interest in boys. Her closest friends were girls from St. Agnes. George and Betty took a serious liking of each other after he left the service after World War II. George went to the sugar rationing office and shared an elevator ride with Betty and her sister Margie who going to visit another sister Mary Clare who worked at the rationing office. George knew Mary Clare's boyfriend Ray Smolinski. He later asked Ray to arrange a blind date with Betty to the Peony Park dance hall. He had a motorcycle, which was almost scandalous at that time, and despite being shy she would ride on it with him. Since George was also Catholic that gave him an "in" with her parents. When George took Betty to meet his parents his mom knew right away that Betty was the girl for George. After a courtship of a couple of years they were married at St. Agnes Church on May 1st, 1948. They moved into their first house on 39th & Gordon and later moved to a house on Hanscom Blvd. as the family quickly added five girls.
After the war, George returned to Omaha and decided to go to work for his father at Willow Springs Bottling. His father gave he and his brothers Al and Lory part ownership in the company. Betty was not real happy that he did not go back to the Union Pacific. She felt it was a better company to work for and had better benefits. But, like his siblings and in-laws, George would become a successful businessman eventually taking over the ownership of Willow Springs Bottling which he later renamed Cornhusker Beverage Mart while keeping the Willow Springs name as the official business name. In the 60's they sold the plant and the company's franchise rights to the popular lines of pop in that day, including 7 Up, Dr Pepper, Orange Crush and Squirt, to Consolidated Beverages. George went to work for Fontenelle Springs, a competitor in the pop business, then decided to open his own pop plant. In 1968 he built a new facility for bottling pop and selling liquor in west Omaha at 85th & K St., where it still operates. The early years were hard and the days long as he built up the business. In those days bottles were returnable so he had a drive-thru built in so his customers didn't have to leave the car. As the business grew he became the largest beer keg retailer in Omaha. A fact that still stands today. He introduced Goody pop and its 24 flavors to the Omaha market along with producing Double Cola, Frosty Root Beer and other pop products. You can read more about the company's history in a 1984 Omaha World Herald article and a 1987 article in Beverage Analyst.
Betty's greatest talent and hobby was her work at home as a seamstress. She made many dresses for the girls as they grew up and even into their adulthood. She handmade all the exquisite First Communion and wedding veils for her daughters and granddaughters. She was also a great cook and it is reported she made excellent cherry pie. Unfortunately because of George's work schedule many dinners had to be held into the evening as they waited for him to come home.
As anyone will tell you George loved to talk. He could keep a conversation going for hours all by himself.
Betty was a very religious person and took her Catholicism with great sincerity. Anywhere the family would travel the first order of business was to locate the nearest church and get the schedule so they could attend Sunday mass. She also loved chocolate-covered peanuts, O-So grape pop and Fritos. She would later work at the Firehouse Dinner Theater after all her girls were adults.
Betty succumbed to Parkinson's disease and dementia in the later years of her life. She passed away peacefully at Papillion Manor on June 9th, 2012. She left behind 21 grandchildren and 18 great-grandchildren with more coming. Her obituary can be read by clicking here. She is buried at Calvary Cemetery in Omaha near her daughter Mary Pat. May God's perpetual light shine on her.
George Riedmann passed away on June 10, 2014 after a severe traffic accident several days before. He left us in the presence of his family at the University of Nebraska Medical Center. His service was held at Our Lady of Lourdes Church on June 13, 2014 and he was interred next to his beloved wife Betty and his daughter Mary Pat at Calvary Cemetery. The ceremony was held with military honors by the South Omaha American Legion Post 331 which his father belonged to. His obituary in the Omaha paper can be read here. The Omaha World Herald also had a nice write-up of George a couple of days later. Click here to read the article. May he and Betty enjoy eternal companionship.
In Memory of William "Bill" L. Van Moorleghem
1952-2013
Bill, or Will as many called him, was born in Omaha, Nebraska to Irene (Riedmann) and Clem Van Moorleghem on April 4, 1952. He attended St Thomas More Grade School and graduated from Ryan High School in 1970. After high school Bill began the adventure most would never imagine. As a young boy he was always wandering, meeting people and experiencing new things. His mom would say he makes a five-minute walk take an hour with all the detours he took.
Bill was a smart kid and a star athlete in high school and was liked by all the girls. In sports things didn't work out the way he would have liked between him and the Ryan coaches and his athletic abilities were never fully revealed. Once out of school he set off westward with a couple of friends, first living the more rugged life in the mountains of Colorado. After a period there he moved to Hawaii on his own then moved back to Colorado to live in the mountains above Boulder. He lived in a handmade teepee enjoying the outdoors. Among his other possessions was a goat and books he would buy in Boulder. His family would visit him and be amazed at the way he lived but knew this is what he wanted. His enjoyment of living the rugged life would never leave him.
He eventually moved back to Omaha where he found a new purpose in his life through God and became very religious. While he was involved with a religious group he had joined he met Jane Papendick and later married her on Sept. 2, 1978. They had their first son, Joshua in 1980 then moved to Appleton, Wisconsin later that year. The rest of his children, John, Johanna and Luke, were born in Wisconsin. They moved to Hortonville, just outside of Appleton, to live on a private piece of land where he could be back close to nature. He and Jane divorced in the late 90's amicably.
When they moved to Appleton Bill started painting houses for a living. While working on one house he met a man who owned a filing systems company. Bill, being the great talker he was, convinced the man to give him a job. After learning about the business Bill started his own small business, Design Office Interiors, selling and installing office furniture. He developed a very loyal clientele. His easy-going nature and calmness proved to be one of his strong points. His customers developed a trust in him knowing that he would take care of them. He owned the business for 17 years.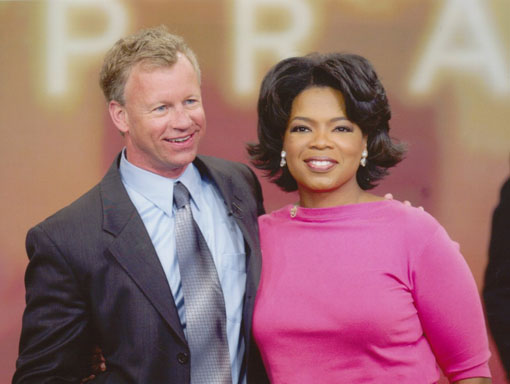 Bill later claimed some fame when he appeared on the Oprah Winfrey Show. With the popularity of the new television shows "The Bachelor" and "The Bachelorette" Oprah in 2003 created a segment dedicated to finding a bachelor for a senior woman. Trista Rehn, a former contestant on both shows, conducted a search for bachelors to meet her mother Roseanne. She found Bill on match.com along with many other candidates. The list was narrowed down to three with Bill selected by Roseanne as the winner when she handed him a rose on the program. Bill later went out with her, complete with Oprah's film crew. They struck up a good friendship but nothing more. It turned out that Roseanne lived in nearby Appleton. Bill and Roseanne stayed in touch over the years.
Bill lived out in the country and loved the outdoors. He owned a home that sat on several acres of forested land. This would be a good thing until a storm blew through in July 2010. The damage to his property made the local Fox news as the destruction to many of his trees was devastating and would take a long time to clean up. Thankfully a church group stepped in to help with the cleanup.
For the most part Bill lived a private life, never complaining but always willing to smile. He had his hardships in life as much as anyone else. Bill loved to hike and stay in shape. He was known to travel back into the mountains with a backpack and the barest of essentials spending the time living off the land. Mother Nature always provided for him. Though raised a Catholic he did not stay a part of the church. But that didn't mean he couldn't find his own belief in God. Religion was important to him in his way and celebrated it in his joy of being outdoors and the way he dealt with others. Oddly enough, as much as Bill stayed in shape and could be said to be the fittest of his siblings it was a hidden heart condition that ended his life. While he may have known that something was wrong he never let his family know.
Bill passed away in peace at his home in Hortonville, Wisconsin on August 1, 2013. He was cremated and his ashes were spread at a favorite retreat of his in Wisconsin on August 7th. You can view his Hortonville, Wisconsin obituary here. A service was held for him at the park pavilion. A second service was held in Omaha at St John Vianney on August 22nd. May he rest in peace.
Epilogue: Bill's son Luke found a manuscript Bill wrote about his life. The timeframe covered is his 18 to 21st years when he left Omaha and moved out west. It was a very tumultuous time for him. He provides a very interesting look at his life that most people never knew, including how he was living and what he was thinking during that time. You can download his story by clicking here. Thanks to Luke for typing and editing Bill's manuscript. His obituary in the Omaha paper can be read here.
In Memory of Alfred A. Jr. and Shirley Maree (Simpson) Riedmann
1928-2021/1931-2015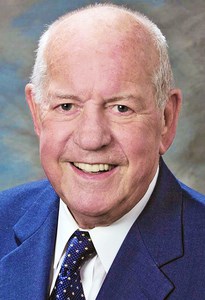 Alfred Riedmann, or "Big Al" as Shirley called him so as not to be confused with his son "Little Al", was born June 12, 1928. Like all his siblings he was born at the family home at 504 Martha St. He was named after his father Alfred Sr. and was the fifth of eight children. He attended St. Patrick's Elementary and South High School.
Al loved his South Omaha roots and was ready to tell anyone a story about his adventures growing up there. In fact, he used to give a speech to organizations called "Growing Up in the Dahlman Neighborhood". One of the most interesting parts of his speech was his recollection of his time as a kid when he would see any fresh concrete that was being poured in the neighborhood. When the workmen were gone he would push marbles into the surface where they would remain forever. When a section of the neighborhood was being torn up for the Lauritzen Gardens he paid a visit every day and asked the demolition crews if they saw any concrete with marbles in it. Lo and behold, one day he arrived to find they had a present for him. They found a piece, complete with marbles, and gave it to him. He saved it and showed it to anyone who would listen. Much of his speech is presented elsewhere on this website. Al loved to tell stories and his famous "dad jokes". Of course, if a story was good enough to tell once, it's good enough to tell the rest of your life. His kids considered numbering them to expedite the process of hearing them, again. But to no avail as he would proceed to refresh their memory, again. And everyone would laugh again. With Al laughter was the best medicine and he had his PhD in making people happy.
Al started working, like all his brothers, at the pop plant at an early age. He stuck with it over the years using it to hone his salesmanship skills. He started his own pop business in Des Moines which he ran for a while before returning to Omaha. Eventually, he fell into the natural business for him of selling real estate. At one time he even helped run his own real estate business, Professional Real Estate Group, with his son and another partner. Over time he ended up at NP Dodge working his dream job as a real estate specialist. He would travel the country for the company and check out far-off listings the company would get thru corporate executives who were relocating to Omaha. His job was to travel to the locale to find out why the house wasn't selling. He would check out the property and do research on the local market. The best part was he was able to take his wife Shirley with him and see the country. Al loved to travel, and he was paid to do it!
During his younger years he served in the Marines during WWII. It is something he was always proud of. Al also was very involved and proud of his association with Alcoholics Anonymous. For 49 years he touched the lives of many people helping to bring stability to their lives. He was ready and willing to help anyone at any hour of the day. He would hire many of the people he helped for small projects around his house. He would pay them back by taking them shopping for needed items or paying a bill that needed paying. He would never pay them cash, however.
Al also loved to make dill pickles with his special family recipe. In fact, it became a family project. And if family wasn't available he would recruit others in the neighborhood that were willing to lend a hand. He was an expert salesman after all. When it came time to bottle them he would round everyone up and create an assembly line starting with washing the pickles, sorting them, washing the jars and filling them. To the family it became known as the Great Pickle Adventure. Of course, when that was done he needed his family to deliver them. The humorous part is when the deliveries were done he would send his son a bill for the pickles, even though they were donated for free.
His greatest love was his family, especially his grandchildren. It made his day when they visited. He always had a treat in the refrigerator for them, even if it was making one of his great sandwiches. Sometimes he gave them a presidential dollar coin or chocolates.
When Al met Shirley Simpson he found the love of his life. Before they married Al and Shirley would go to his sister Irene's house for Sunday dinners. They were married on May 3rd, 1952. She converted to Catholicism before they were married. They moved to Des Moines where Al was starting a pop business. After three years they moved back to Omaha and moved into a new house at 43rd and Marinda.
Shirley was born in Omaha, Nebraska on January 25, 1931. She grew up on North 30th St. near the Florence waterworks. She had two brothers and three sisters. She attended North High School. She played many sports while she was at South including, basketball, volleyball, baseball, soccer and many other activities. Shirley was always proud of her Florence roots and would talk about the community's closeness during the Depression and how all the families took care of each other.
Shirley loved to knit and also do some crocheting. She would make afghans for all her children and grandchildren. She enjoyed feeding all her backyard pets, as she called them. She fed the birds, squirrels, rabbits and any other creature that would venture into the yard. She also loved dogs. She learned how to make excellent sauerkraut and dumplings from Al's mother. She worked at Borsheims in the gifts department for many years and was loved by all her fellow employees.
Shirley always had a smile for everyone and greeted anyone with warmth and affection. They were blessed with six children, 13 grandchildren and eight great-grandchildren at the time of her death.
Shirley passed away peacefully in her sleep at home in Omaha on July 31, 2015 with her husband Al at her side. Her obituary in the Omaha paper can be read here. A service was held for her at Mary Our Queen on August 3rd. She was cremated on August 7th. Her ashes will be held by the family and buried with Al's. May she rest in peace.
Al had a stroke near the end of his life. This led to a series of other unfortunate illnesses. He faced them all bravely but somehow knew his time was near an end. Al passed away peacefully on February 8, 2021 with his daughter Mary Kay at his side. The count of great-grandchildren he could claim had grown to 23. His services were held at Waters Edge Church on February 12th. Due to the Covid pandemic a burial service was postponed. The family plans to have his and Shirley's ashes spread in Maine at a location Al and Shirley loved to visit during their time together. You can read his obituary in the Omaha paper can be read here. May he rest in peace.
In Memory of Debbie L. (Elsasser) Enholm
1954-2018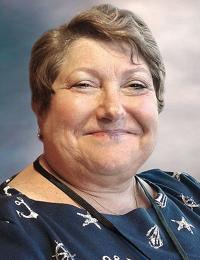 Debbie was born in Omaha on September 24th, 1954. She was born with a unique personality comprised of love of her family, a love to travel and the ability to always have a smile. She also loved hockey, especially the Omaha Lancers junior amateur team, going back to when they were the losingest team in the country in 80s. And of course, she loved the Nebraska Cornhuskers.
Her parents were Ruth Riedmann and Gene Elsasser. Debbie grew up with her two younger brothers, Gary and Dale, first on Castelar St., then moved to 114th & Center St in Prairie Lane where she attended Prairie Lane Grade School and Westside High School. She and the family survived the tornado that hit a few blocks away at Bel Air Plaza in the 60s.
In early 1973 she met Mark Enholm at a bar in which he had brought a date. After taking the date home Mark came back to the bar and tried to get Debbie to go out. She calmly explained that she liked hockey and if he wanted to see her he would have to come and meet her on Friday at a hockey match. He took that advice seriously and went to a match, found her, and the rest is history. She also loved Mercury Cougar automobiles and that just happened to be the car he drove. It was a match made in heaven. They became engaged in the summer of '74 and married on April 11, 1975. They have two sons, Andrew and Matthew and as of this time she has three grandchildren. They first built a home in 1978 on Ohio St, where they spent the most time raising their kids. In 1998 they built a home on No. 143 St in the Hillsborough subdivision.
Debbie first went to work at Mutual of Omaha but it wasn't the right kind of job for her. She liked to be out seeing people. After the second son was born she went to work for Avon which was a much better fit. It had flexible hours, traveling, and with her positive attitude and great smile it was the perfect job. Her unique personality allowed her to meet people and with her smile she could make anyone feel comfortable. She next worked for Bell Sports and really started to travel, being away from home up to four days a week. This is where she discovered her love to travel and learned how to navigate with a map. Later she would travel selling to gift shops. She would take Andy and Matt on her trips sometimes during the summer for day trips.
Debbie enjoyed many things in married life. She loved doing things with other couples including card games, hot air ballooning, travel, football games, and many other sports. Many summers were spent taking a ballooning trip with the kids and flying in Mark's balloon. She loved their German shepherd and don't forget, she loved hockey. She also loved all kinds of music and would attend concerts in a wide range of music styles. She would visit casinos when the opportunity would come up. And she loved to be around water, any type, whether it was a lake or an ocean. One thing the whole family understood, if you wanted something done, get Debbie involved because she would make things happen. Her favorite saying was "Life is uncertain, eat dessert first", just like her mother taught her.
Three things we will remember about Debbie: 1) she found happiness in the simplest things in life, 2) she had a smile that showed like the face of the sun, she put it on when she got up in the morning and took it off when she went bed, 3) she always oozed optimism.
She passed away on September 18th, 2018 after a sudden illness. After a ceremony at Lutheran Church of the Master she was buried at Westlawn Memorial Park on September 21st, 2018, three days before her 64th birthday. Her obituary can be found here. May she rest in peace.
In Memory of James J Sobczyk
1949-2020
The following biography is provided by Jim's family. Jim was born in Omaha, Nebraska June 17, 1949. Jim was unique to himself with a calming personality that made him a pleasure to visit. He always had a smile and was ready with a story or share his special sense of humor. Whenever you ran into him you knew you were in for a long chat as he shared his wit and wisdom.
He was born to Andrew and Rita Sobczyk. He had five siblings: Mary Ellen, Tom, Ray, Jane and Jerry. He attended Our Lady of Lourdes grade school. After grade school he attended St. Joseph's Seminary in Westmont, Illinois for three years before returning home to graduate from Ryan High School. He then pursued a business degree from Creighton University and graduated in 1971. Jim served his country in the Army Reserves as a cook from 1971 to 1977. He specialized in soups, stews and gravies. This is where he learned to make his famous 239 bean soup (because one more bean would make it too farty).
During college Jim worked at the Dundee theater and was an altar server for St. Mary Magdalene Church downtown. After working for his (then future) father-in-law for a few years at Crystal Beverage, he earned his MBD (Married Boss's Daughter).
He married Margaret Rose Riedmann on June 20, 1970 and in the traditional Catholic spirit, he had eight children: Jamie, Therese, Betsy, Nicole, Billy, Maggie, Mary and Tim. His 24 grandchildren were the light of his life and his favorite bragging material. His eight children all graduated from Gross High School and he continued his support for the school by hosting an annual wine-tasting fundraiser.
At times Jim worked three jobs to support his family and beginning in 1968 he dedicated more than fifty years of his life to one of his other passions at Cornhusker Beverage Mart, building a business that serves the needs of the community with a diverse line including retail sales of liquor and pop, beverage catering, social stationery and home brewing supplies. Cornhusker was known as the largest seller of keg beer in Omaha. He was rewarded for his hard work by inheriting the business from his father-in-law, George Riedmann, upon his passing. Jim's ethical business ways, jovial demeanor, faith-filled sentiments, seemingly endless knowledge and bad jokes will be what he is remembered for. It was clear that he was always a good sport because he wore his "Jim shirt" to work every day.
He loved singing in the church choir, sharing his love of gardening with his grandchildren and was an avid follower of Creighton Bluejay Basketball and UNO Maverick Hockey. He was involved in the St. Bernadette Men's Club and is remembered for making the Italian peppers for St. Bernadette's Church festival for years. He spent decades as a merit badge counselor for the Boy Scouts and all three of his sons achieved the rank of Eagle Scout under his guidance. He was a long-time member and past president of the Business Breakfast Club of Omaha.
As a daily Mass attendee he often shared tidbits of the mass throughout the day, always starting his mornings at work with, "Today is the feast of…". While it is clear that his faith in God was at the forefront of his life, there is no doubt it became stronger while teaching almost all of his children to drive.
His presence will not only be missed by his family, but he will also be missed by many people in the community. There are not enough words to share the impact he made on every person he met. He has touched so many lives and will not be forgotten. His obituary can be found here. May he rest in peace.
In Memory of Vincent J. Marullo
1954-2020
Vince was the husband of Sue Van Moorleghem and they have been together for 40 happy years. Vince and Sue met in the '70s. He was dating one of Sue's college friends. After they broke up he started to date Sue. Sue was living in the East Village at the time. Most of Vince's work was in the city so he stayed in the city a lot. Vince and Sue moved to a home in Babylon on Long Island. They had a church wedding on July 2, 1984 with a reception afterward at his parent's home in the Hamptons on Long Island. They have two children Chris and Elizabeth (Betsy). Vince also had one brother and one sister. Vince was a big family man and devoted much of his time to Sue and both his children.
Vince owned Mako Construction in Manhattan when he met Sue. The most famous project he ran was the construction of the American Wing addition made to the Metropolitan Museum of Art in NYC. He eventually closed the business when they moved to Long Island where he started his own business and named it CBM Contracting. The name comes from Chris, Betsy and Marullo.
Vince and Sue lived in Babylon first then moved to West Islip on Long Island. The West Islip home was bought as a fixer-upper which unfortunately took many years to fix up. The good news was that he was so busy with his business. It was one block from his boat slip on the canal.
Vince was a man of the sea. He loved going out into the ocean. This was when he was his happiest. He owned several boats over the years, the first two were sailboats, which he loved to take out into the Atlantic, then two motorboats that were great for going out to sea and ferrying people about. They were always named Susan Rene after his wife Sue. His last boat was a 34′ Back Cove yacht which he enjoyed using as a shuttle service for anyone that needed a lift, including taking Sue and friends out to Fire Island. Sometimes making the trip several times a day. They were members of, and he was active in the Babylon Yacht Club. It was great for the kids when they were young as it also has a large swimming pool. Ironically as much as he loved sailing he disliked traveling outside of the Long Island. He really was a homebody when he wasn't working.
Vince's other passions were Italian food, he'd try everything, and he loved his dogs. He had several of them over the years. Monty, Mario, Lucy, Marty and Moe. He apparently liked names starting with M. He also still held on to his old flip phone. No iPhone or iPad for him. Like any red-blooded American he loved sports and old movies. He was your typical no-nonsense, not afraid to get in your face New Yorker. At the same time he had a heart of gold and was very giving of his time to help, fix or advise on any project.
Vince fought a long battle with heart issues including almost dying twice on the operating table. In 2014 he was featured in an article for Good Samaritan Hospital for the life-saving operation he was given there. You can read the article here. He and Sue were also featured in a Good Samaritan's Cardiovascular Services promotional video. The video can be seen here. Their successful operation gave Vince six additional years of life. He was very dedicated to the people at the Hospital. He took them bagels every Sunday. He and Sue also volunteered every Tuesday to counsel open heart patients for 4 years.
Vince passed away July 11, 2020 at home with his family by his side. He was interred on July 20th at Pinelawn Cemetery in Farmingdale, NY. His obituary can be found here. May he rest in peace.
In Memory of Janet Pettigrew Quistad
1954-2023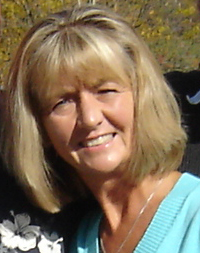 The writing below is from an obituary found for Janet. Janet passed away suddenly on May 9th, 2023.
This week has been difficult for many of us who knew Janet Quistad. Her sudden passing came as a total shock to everyone who knew her. Janet was the busiest and healthiest person we knew, and it's hard to believe that she is no longer with us.
Janet was a genuinely sweet and kind person who always saw the best in others and the environment around her. She was always looking for the silver lining, and her sunny disposition had a way of brightening up even the darkest of days. She had the unique ability to recognize one's underlying potential in others. Janet was the rock upon which her family could always rely and depend on. Janet's family was everything to her. Despite living in California, she made it a point to FaceTime with her grandchildren once a week and talk for as long as possible. Her love for her family was evident in everything she did, and she always went out of her way to make sure they were happy and well taken care of.
Janet's passing serves as a jarring reminder that life is immensely valuable, and we should make it a top priority to spend as much time as possible with the people who are important to us. It's heartbreaking to think that Janet's grandchildren will never be able to talk to her or see her again. It's a reminder that we should cherish the time we have with our loved ones and make every moment count. Janet, we know how much you wanted to spend more time with your grandchildren. We share that sentiment with you and wish that we could have secured your presence for a last performance for them. Your absence will be felt deeply, and it's difficult to imagine a world without you in it.
Janet Quistad was a remarkable person who touched the lives of everyone she met. Her kindness and generosity will never be forgotten, and she will be deeply missed by all who knew her. Rest in peace, Janet. We love you.
The following information may or may not be accurate. Janet Eileen Pettigrew was the daughter of William Thomas Pettigrew and Dorothy Brinkerhoff. They were married in Camarillo, California on June 18, 1950. Janet was born on June 15, 1954. She had two siblings, Sharon and John. She attended Adolfo Camarillo High School and graduated in 1972. While in high school she was a member of the Drill Team. She married Daniel Quistad on Nov. 30, 1974 in Ventura, California. They had two sons, Chad and Ben. She also had four grandchildren at the time of her passing. When more information becomes available it will be posted when the family is ready. To see an obituary for Janet click here.
Remember and honor the family who have come and gone before you.
Because they had a hand in shaping who you are.