The following is a short history of Georg Adam Riedmann, or Adam as he was called. At the bottom is also a list of his and his wife Elizabeth Gall's descendants.
Adam was born in Stetten Germany on Oct. 5, 1875. He was the fifth of the thirteen children Georg & Maria Magdalena Riedmann had in Germany. He arrived in America at Ellis Island on June 31, 1902. The ship's passenger record states he was Austrian, however, it also says he came from Stetten Germany. He arrived on the Furst Bismark via Hamburg as many other Germans did. Adam and Elizabeth were married in St. Joseph's Church at 16th and Center St. on October 10th, 1904. Their first known Omaha residence was 1717-1/2 Lincoln Ave. Their first child, Andrew, was born on August 3, 1905. They must have had a very fast courtship, or they met each other in Germany before coming over.
According to their marriage license Elizabeth was born in Hungary. Elizabeth's parents were Andrew and Susan (Seifert) Gall, he was from Hungary and she was from Germany. It is not known when Elizabeth came to America. The spelling of her last name is a mystery as all the Ellis Island records show that the Galls came from Great Britain. However, Gaal is a common name from Hungary. It could be it was changed when her name was officially recorded upon her arrival. Elizabeth had 2 sisters and a brother that we know of, however, their names are unknown.
Adam, as he was called so he would not be confused with his older brother Georg Michael, worked selling carriages in Germany before he emigrated to America. After he came over he lived in South Dakota for a short while but moved to Omaha because it was too cold. He worked in the packing houses as many of his ancestors did. It was a rough job and the company was ruthless. It had many similarities to the sweatshops we hear about in Asia today. Employees had to put up with such issues as not being permitted to take bathroom breaks, or having to pay the foreman half their wages each payday in order to keep their job. Smoking was not allowed, so the men would chew instead. The inspectors didn't like that and made them use spittoons. Then they found that the spittoons were never cleaned so that was the end of that too. On top of this, the working conditions inside the packing plants were atrocious. Nothing like the plants of today. Eventually, the unions stepped in and improved many of their working conditions.
Around 1907 Adam left there and went to work at Metz Brewery. He would also use his brew-making skills like many other German immigrants and brew his own beer at home. Adam's brother Georg also worked in the breweries in Omaha, including Metz.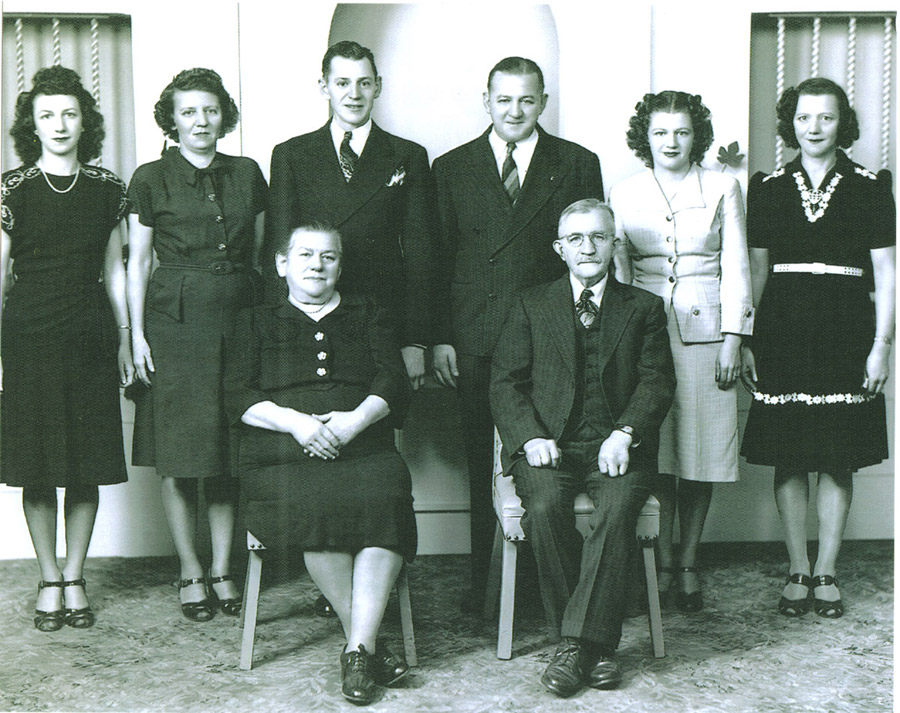 Adam became a citizen of the United States on January 27th, 1914. He passed away on October 20, 1957.
The picture to the right is of Adam, his wife Elizabeth and six of his eight children. Madeline (Mel) is not in the picture as she passed away before the picture was taken. Another child, presumed to be named Adam as the death records show only an A for the first name, was born on Feb. 3rd, 1907, but passed away July 28th, 1907.
The family list below is broken down by each of Adam and Elizabeth's children. Their children are listed first, spouse second. The grandchildren are listed under their parents and may not be in chronological order. This list is not complete and generally covers only two generations, with some exceptions. (Any help from the family to fill out the list will be appreciated.)
The Andrew Sr. and Lucille Riedmann Family
Riedmann
Andrew Sr and Lucille
Andrew d. 1/21/77
Lucille b. 1914
Lucille d. 7/24/70
Riedmann
Andrew Jr "Sonny" and Norma (Wilson)
Andrew b. 12/2/31
m. 10/1/55
Andrew d. 11/30/00
Norma b. 8/15/31
Norma d. 2/9/01
Claussen
Denise Madge and James
b. 11/9/54
m.
James b. 2/18/54
Claussen
Amy June
b. 10/18/75
Claussen
Jennifer Lynn
b. 1/19/77
Riedmann
Mark Andrew and Pamela
b. 4/15/56
m. Theresa Paul
m. LeAnn Campbell 6/1/89
LeAnn b. 6/16/59
m. Pamela 6/9/01
Pamela b. 1/9/59
Mark d. 12/12/08
Riedmann
Courtney
b. (Theresa)
Riedmann
Cody Lee
b. 9/13/90 (Leann)
Campbell
Joshua
b. 6/29/87
Stroman
Kindra and Mark
b. 8/9/80
m. 10/31/03
Johnson
Trisha
Riedmann
Richard Allen and Peggy Jean (Harveston)
b. 5/19/57
Kimberly
m. Peggy Jean 6/11/76
Peggy b. 7/7/56
d. 2/1/10
Riedmann
Sarah Katherine
b. 10/1/77
Riedmann
Samuel Joseph
b. 8/21/99
Barlow
Ty Hunter Frederick
10/20/02
Barlow
Kayka Valentina Jean
10/20/04
Gillaspie
Michelle and Chris
Gillaspie
Kody
Gillaspie
Katrina
Gillaspie
Christopher
Riedmann
Daniel and Marci
Dan b. 2/8/59
m. Terri Davis
Terri b. 8/14/60
m. Rhonda Whichman
Rhonda b. 11/20/63
m. Marci
Riedmann
Daniel Anthony
b. 4/4/80 (Terri)
d. 12/7/16
Riedmann
Abby Buckholt
b. 12/21/97
Soloman
Catherine Ann and Derek
b. 10/30/83 (Terri)
m. 2002
Soloman
Hailey
b. 1/6/02
Soloman
Brook
b. 1/6/02
Soloman
Weston
b. 9/21/04
Soloman
Unknown
b.
Riedmann
Tucker Daniel and Brittany (VanMarte)
b. 12/12/91 (Rhonda)
m. 2012
Brittany b. 10/13/88
Riedmann
Braxtyn Tucker
b. 3/8/13
Riedmann
Don James and Marian (Walter)
Don b. 2/8/59
m. Bettina Kiendl 7/1/81
b. 7/19/61
m. Marian 2/2/85
Marian b. 1/5/63
Munz
Katrina Marianna Christa and Nicolai
b. 2/2/82 (Brittina)
m. 11/13/12
Riedmann
Caitlyn Marie
b. 8/23/88 (Marian)
Riedmann
HIllary Leigh
b. 8/1/90 (Marian)
Scott
Elizabeth Ann and Seth
b. 1/26/60
m. 9/3/76
Seth b. 2/15/57
Seth d. 2/12/13
Giersdorf
Danielle Norma Margery and Bobby Jo
b. 2/13/77
m. 6/13/98
Bobby b. 9/21/75
Scott
Erwin Burnell
b. 12/5/95
Foster?
Cindy?
b. 6/10/97
Giersdorf
Gabrielle Josephine
b. 10/31/97
Giersdorf
Brandon
b. 12/4/98
Scott
Seth Erwin Andrew Jr. and Tiffany (Ross)
b. 2/2/82?
m. 7/7/01
Tiffany b. 12/18/77
Ross
Christopher
b. 7/19/95
Shuck
Matthew
b. 12/1/98
Scott
Aaron Trevor and Stepahnie Adams
b. 5/22/80 (adopted)
m . 5/4/01
Stephanie b. 11/7/81
Scott
Natalie Joy
b. 1/28/03
Scott
2nd child
Scott
Andrew Burnell
b. 10/13/87
Scott
Racheal
b. 5/2/89
Woods
Sara Beth Magdalen
b. 6/30/09
Riedmann
Andrew Lanman and Norma
Andrew b. 5/22/62
m. Janet Hynek 2/11/84
Janet b. 12/2/64
m. Norma Hynek 9/8/95
Norma b. 8/18/60
Riedmann
Christopher Andrew
b. 7/30/84
Riedmann
Amanda Kay
b. 1/30/86
Riedmann
Nathaniel Anton
b. 1/22/06
Riedmann
Matthew Gregory
b. 9/29/89
Riedmann
Dillon Anton
b. 12/14/94 (Norma)
Cheney
Jennifer and Mark
b. 4/29/68
m. 12/12/92
Mark b. 1/23/65
Cheney
Max Abendigo
b. 7/14/94
Cheney
Bruno Malachi
b. 11/5/97
Riedmann
Scott Lee and Teasha (Schafer)
b. 7/12/69
m. Tonya Rae Minor
tonya b. 8/7/91
m. Teasha 10/4/14
Teasha b. 7/17/78
Riedmann
Tyler Scott
b. 5/27/95
Riedmann
Rebecca Renee
b. 3/19/99
Riedmann
Marcus
b. 2/4/11 (Teasha)
Christianson
Dorothy and Bud
Dorothy b. 3/24/33
Dorothy d. 11/16/06
Christianson
Rick & Sharon
b.
Christianson
Bob
b. 12/27/69
m. 8/21/04
Christianson
Buddy & Pam
b.
Christianson
Tim & Nancy
b.
Christianson
Doreen
b.
Riedmann
Robert Eugene and Peggy
Robert b. 9/13/35
Robert d. 1976
Riedmann
LeeAnn
b. 1954
Riedmann
Lorrie
b. 11/14/58
Riedmann
Suzanne
b. 1963
Riedmann
Robert "Bob" E, Jr. and Jennifer
b. 12/27/69
m. 8/22/94
Riedmann
Anna
Stockton
Mary Rose
b. 1/24/37
d. 7/25/03
Waugh
Larry and Mary Jo
Waugh
Daniel and Fumi
Lea
Theresa and Bryon
Hamilton
Rita
>
Middleton
Susan and Melvin
Waugh
Pam
Riedmann
Wayne
m. Linda 11/5/66
div. 10/86
m. #2
Riedmann
Jeffrey Adam and Noele (Petersen)
m. 1997
Riedmann
Adam
Riedmann
Micah
Riedmann
Noah
Riedmann
Varessa Anne
Unavailable
Kristina Lynn and Steve
Riedmann
Kyndra Dawne
adopted
McRoberts
Jeremiah Richard
b. 8/15/03
Riedmann
Second Child
b.
Riedmann
Savanah Rose
Riedmann
Garrett Lyle and Rachel
Riedmann
Ansley Kay
b. 2/4/15
Sneed
Darlene and Robert
The Margaret Riedmann / Puggie Dean Family
Dean
Margaret and Puggie
2nd spouse – Sam Stover
Gregory
Rita Clara and Emory
Rita b. 3/13/26
d. 7/5/76
Emory b. 9/8/21
Gregory
Emory Jack and Corrinne (Bojanski)
Emory b. 4/22/56
Corrine b. 3/28/61
m. 5/12/84
Rowen
Jennifer and John
Jennifer b. 10/9/73
John b. 6/7/74
m. 4/28/00
Rowen
Katlyn
b. 9/2/00
Rowen
Kristin
b. 9/20/01
Rowen
Emma
b. 1/20/05
Rowen
To be announced
b. 6/06
Gregory
Sara
b. 8/7/85
Dean
Donald and Lorraine (Langle)
Donald b. 5/10/25
d. 3/13/80
Lorraine b. 2/27/36
d. 1/19/06
m. 8/1/53
Roland
Dorinda and Neil
Dorinda b. 8/30/57
2nd Spouse Neil
Snyder
Crystal
b.
Courter
Donald
b.
Courter
Michael
b.
Courter
Donald Jr.
b.
Courter
Angel
b.
Dean
Leonard and Mary Lou
Williams
Mary Margaret "Dolly"
The Elizabeth Riedmann /Arnold Martin Family
Martin
Elizabeth "Liz" and Arnold
Martin
Arnold Sr "Arnie" and Janette
Arnold d. 12/6/18
Hess
Linda
Brayman
Arnette and Monty
Baumbach
Cindy and Mike
Carter
Tami
Ratay
Dorothy and Tom
Martin
Arnold Jr. and Sharon
Agee
Gerry and Bob
Anderson
Delores "Dee" and Nels John
Delores b. 7/14/35 Edward Kosack
b. 12/6/24
d. 10/26/82
m.
Nels b. 2/17/16
m. 3/9/96
Kosack
Edward Arnold and Barbara (Blume)
Edward b. 6/9/54
Barbara b. 7/9/56
m. /73
Scheuring
Lisa Marie and Dale
Lisa b. 2/20/74
Dale b. 7/8
m.
Scheuring
Matthew
b. 9/9/93
Scheuring
Angela
b. 1/21/02
Scheuring
Stephanie
b. 5/9/05
Elroy
Dianna Lynn and Charles Jr.
Dianna b. 1/2/56
Charles b. 2/11/55
m. 8/16/74
Elroy
Karylin Marie
b. 9/12/86
Elroy
Charles William III
b. 6/21/88
Dykes
Lois
Martin
Kenneth "Kenny" and Penny
one child
Martin
Wayne and JoAnn
3 children
Martin
David and Jan
Pinyard
Marilyn
Marilyn b. 1/25/47
Jim b. 5/22/44
m. 5/2/64
div. Jim Ward 12/26/76
Swilor
Dianne and Keith
b. 11/29/64
Keith b. 7/27/67
m. 2/6/98
Swilor
Ryan
b. 12/3/87
Ward
Susan
b. 5/30/68
d. 6/14/68
Ward
Jim and Lisa (Kramer)
Jim b. 2/9/76
Lisa b. 6/5/79
m. 6/20/98
Ward
Destiney
b. 1/21/98
Ward
Matthew
b. 5/4/04
Martin
Jess and Tammy
Martin
Gene and Diana
Fasciano
Brenda
The Madeline Riedmann/Lawrence Hineline Family
Hineline
Mel and Lawrence
Malchow
Joyce
Malchow
Dale
b. 2/11/57
Malchow
Jeremiah
Malchow
William
b. 5/13/59
Lioudmilla
Logan
Lioudmilla
Brent
Simandl
Lori and Richard
Simandl
Catherine
b. 6/25/94
Simandl
Patricia
b. 6/10/97
The William Sr. and Betty Riedmann Family
Riedmann
William and Elizabeth "Betty" (Welch)
William b. 6/18/04
d. 10/7/56
Betty b. 7/19/17
d. 2/16/08
Riedmann
William (Bill) Jr. and Agnes (Czerwinski)
2nd spouse-Elizabeth Lube

Bill b. 12/19/41
m. 8/63
Bill d. 8/29/86
Riedmann
Elizabeth "Beth"
b. 5/23/65
?
3 Children
Riedmann
William Jr. "Bill"
b. 12/16/66
Davenport
Sharon and Marshall
Sharon b. 2/4/40
Flora
Debbie and Scott
Debbie b. 3/16/60
Flora
Brenden
b. 6/16/88
Flora
Ryan
b. 4/6/90
Flora
Drew
b. 7/17/96
Davenport
David & Laura (Zwadyk)
David b. 11/29/61
Davenport
Ashley
b. 10/2/89
Davenport
Marshall
b. 5/20/92
Blommel
Dawn and John
Dawn b. 11/28/62
Blommel
Jennah
b. 2/1/93
Blommel
Caroline
b. 7/17/95
Riedmann
Gary and Norma
Gary b. 5/26/46
Cox
Laura and Jeffery
b. 1/4/70
Cox
Jessica
b.
Cox
Tyler
b.
Riedmann
Gary "Pat" and Kim (Day)
Pat b. 11/10/72
Riedmann
Kelly
b. 10/22/84
Riedmann
Bruce and Sue
Bruce b. 10/6/47
Riedmann
Dawn
Riedmann
Heather
Riedmann
Roger and Shirley (Gredys)
Roger b. 12/20/43
m. 6/19/65
Roger d. 6/27/97
Riedmann
Jason "Jay" Eric and KrisAnn (Ekberg)
Jason b. 9/17/74
m. 2/15/97
Riedmann
Tobey Jack
b. 1/2/01
Riedmann
Xander Luke
b. 10/28/04
Mattson
Mary and Robert
Mary b. 7/10/56
Olin
Michelle and Johnny
Michelle b. 11/27/74
Olin
Connor
b.
Olin
Caden
b.
Mattson
Mark and Sue Baird
Mark b. 12/21/77
m. 2/06
Mattson
Ryan
b. 5/13/83 (?)
The Ann Riedmann /Theodore Sakalosky Family
Sakalosky
Ann Marie and Ted
Ann b. 6/25/16
m. 11/35
Gasper
JoAnn and Louis "Ron"
JoAnn b. 6/17/36
d. 10/10/22
Ron b. 1/12/35
m. 6/25/54
Gasper
Louis and Carole (Pfeffer)
Louis b. 10/28/55
Carole b. 10/5/58
m. 2/4/78
Gasper
Joseph Thomas
b. 2/1/85
Gasper
Amy Christine
b. 9/12/90
Gasper
Russell Frederick and Anne (Tapley)
Russel b. 5/24/58
Anne b. 8/22/64
Gasper
Emily Lauren
11/4/94
Sevener
Susan Marie and Dutch
Susan b. 5/15/60
Dutch b. 11/10/59
m. 5/16/03
1st spouse Larry Adams
2nd spouse-Harry Moses b. 10/1/61
Adams
Erin Machel
b. 7/8/81
Adams
Amanda Bernice
b. 8/16/83
Moses
Jazmine
b. 10/18/93
Green
Judy Ann and Jerry (Tony Lock?)
Judy b. 9/14/63
Jerry b. 10/11/63
m. 9/2/82
Green
LeeAnn Marie
b. 1/9/92
Green
Samantha Ray
b. 1/29/94
Green
Rebecca Lynn
b. 10/9/95
Green
Faith Summer
b. 6/13/02
Cochrane
Beverly Jean and Robert
Beverly b. 5/24/39
Robert b. 1/22/38
m. 5/2/59
Cochrane
Robert Lee
b. 2/5/60
Cochrane
Melissa Jean
b. 11/21/88
Cochrane
George Frances and Michela (Herbert)
George b. 8/9/66
Michela b. 12/21/69
m. 7/13/96
Cochrane
Dylan Scott
b. 11/21/69
Gour
Colleen Kay and Kevin
Colleen b.
Kevin b.
m. 10//90
Gour
Patrick Michael
b.
Gour
Steven Allen
b.
Pollard
Janette and Earl
Janette b. 9/14/40
Earl b. 2/24/41
m. 5/6/61, div. ?
Pollard
Terry Paul and Donna (Johnson)
Terry b. 10/22/65
Donna b. 10/9/68
m.
Pollard
Trever Lee
b. 10/6/00
Pollard
Treten Les
b. 10/9/38
Sakalosky
Jim and Clara
Sakalosky
Bryan
Sakalosky
Matt and Teresa
Sakalosky
2 sons
Sakalosky
2 daughters
Sakalosky
Jeff and Courtney (Churchill)
Jeff b. 2/26/75
Courtney b. 3/24/75
m. 9/5/98
Sakalosky
Keegan
b. 1/5/96
Sakalosky
Kennidy
b. 11/16/99
Sakalosky
Karson
b. 8/10/01
Sakalosky
Kampbell
b. 4/28/03
Sakalosky
Todd and Joy
Sakalosky
1 son
Sakalosky
Chad
Sakalosky
4 children
The Bernice Riedmann/Joe Alyga Family
Algya
Bernice "Neitzie" and Joe
Bernice b.
Joe b. /18
m. 6/40
Bernice d.
Joe d. 2/12/07
Joe and Bernice had no children