With the help of other members of the Riedmann family, we have collected the names of the other ancestors of Georg and Magdalena Riedmann. Georg and Magdalena had 6 children:
Alfred, born May 30, 1895
Matilda (Tillie), born December 25, 1897
Louis, born March 4, 1899
Anna, born – 1902
Amelia (Millie), born May 9, 1905
Margaret, born August 17, 1912
The picture to the right is of Georg and Magdalena and their children. The story is their daughter Anna passed away in 1911 when she was only 9 years old. They hadn't had any pictures taken of the family while she was alive so this picture was taken soon afterwards. Their last daughter, Margaret, passed away in 1925 at the age of 13. She was born after the picture was taken and no picture has been found of her either.
The story is a few years after Magdalena died Amelia (Millie) went to live with her older sister Matilda (Tillie) who married Charles Prchal in 1922. Margaret went to live with her brother Alfred and his wife Frances at the Martha St. house. Margaret was a frail girl. One day she was visiting Alfred's mother-in-law, Josephine Vacek, who lived on Harrison St. She was running around and having a great time until she ate some unripe, green grapes. When she got back to Al and Frances's house she became ill and started throwing up violently and went into convulsions. Al took her to nearby St Joseph's Hospital which was on 10th & Martha. A nun took her in immediately but she died shortly after she arrived.
The remaining four children produced a very large family. This page focuses on Matilda, Louis and Amelia. You can read about Alfred on the Al & Frances Life page and view Alfred's family by going to Al's Descendants. To see the descendants of the other children you can click on the names below to see a list of their descendants that have been accumulated.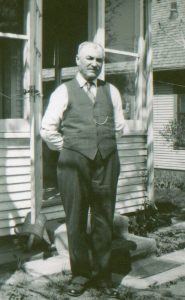 Georg and Lena lived at several addresses before settling in at 411 Walnut St. In 1900, according to US census records he lived in north Omaha at 1814 No 17th St. with three children. By 1910 the family had moved to 1323 So 3rd St in South Omaha and by 1920 had moved to 411 Walnut St. This would not be the end of his moves. He would eventually end up at 48th & Erskine. Through the Omaha City Directory records kept by the Douglas County Historical Society and from the US census records it can be seen that Georg held many jobs over the years in Omaha, most of the time working as a brewer. Those jobs known include: In 1896 he worked for Metz Brewery at 6th & Leavenworth; in 1900 he worked for The Omaha Brewing Association, which later became Storz Brewing, on north 16th St.; in 1903 he worked for Krug Brewery in South Omaha; and in 1907 he worked for Willow Springs Brewery at 3rd & Hickory. Where he lived may relate to where he worked. Willow Springs would be a three-block walk from his house on Walnut. It is not known how long he worked at Willow Springs, why he changed jobs so often, or why he worked in the brewing industry at all. It is also not known if this played a part in his son Alfred later working for Willow Springs. Perhaps coincidentally, or not, his brother Adam worked for Metz Brewery in 1907. Adam emigrated to the United States seven years after Georg. In later years the census would show he worked as a Cutter at a stave yard and a foreman at a box factory and back to being a brewer at a "wholesale brewery" by 1940. Possibly Storz Brewing as it was located in north Omaha.
Matilda was the second oldest of the children. What can be discovered about her younger days is she lived with her parents until she married Charles Prchal in 1922. in 1920 she worked as a "Finisher" at a tie factory. It is not known if there was a tie factory in Omaha back then, but there was an Omaha Clothing Factory until the 1920s. By 1930 she assumed the job of a homemaker raising three of the four children they would have. Charles worked as a laborer at a toy factory.
Louis was the third child of Georg and Lena. Searching records online some things can be learned about Lou and his wife Josephine. According to the census records, he lived with his parents and worked for a box company in Omaha (possibly Omaha Box Co. which opened in 1895). In 1920 he was a laborer and in 1930 he was a foreman for the company. He married Josephine (who also went by the nicknames Jo and Sallie) Palupa in 1922. Josephine emigrated in 1910 from Gabrianow, Austria. Some census records say Czechoslovakia. Part of this could be border changes as most records say Austria, but she spoke Bohemian which is more commonly referred to as Czech. She arrived by ship on March 14th, 1910 at the age of six at Ellis Island with the rest of her family. The ship's manifest spelled her name Josepa. In 1930 they lived in South Omaha at 4526 No 36 St with their first two children and, interestingly, his father Georg. Census records seem to indicate Georg may have gone to work at the box factory with his son and also may have worked under his son. Their daughters attended nearby Omaha North High School. Lou and Jo lived in Denver Colorado from the early 1950s to the early 70s. They first lived in a very large house at 1265 N Fillmore St. for about 14 years. They had boarders who stayed in the house to help pay the cost. In 1967 they moved to a house at 770 Niagara St., then moved back to Omaha in mid-1972. It is believed he worked for Rice Paper Box Co. in Denver. As a side note his daughter Paula and son-in-law Sigmund Kulawik, along with his brother Mitch Kulawik, had started their own box company called Brothers Paper Box Co. They were co-owners and ran it from 1947 to 1984. Another note is Lou loved cigars.
Younger daughter Amelia, or Millie as she was called, lived in the family home until sometime after 1922 when she moved in with Matilda who had married Charles Prchal. Soon after Amelia married Walter Astleford on December 2, 1925 in Neola, IA by a justice of the peace. Walter's parents were both from Ireland. Millie and Walter lived next door to Alfred and Frances at 424 Martha St. Walter was an auto mechanic when they married. According to the city directory of 1934 Amelia was a bookkeeper. The 1940 census shows Walter was an "Owner Manager" of an auto repair business. Perhaps she did the books for a few years while mostly raising their daughter Mildred. By 1950 she was divorced and living with her daughter Mildred and her husband. She was working in sales for a clothing store. She would later marry Raymond Mead.
The family trees will be updated periodically as we receive more information. Stories may be added too.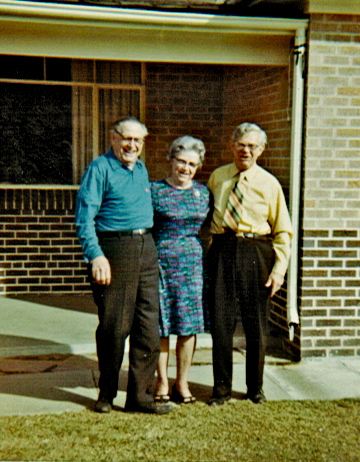 For the family trees of these families go to these pages:
Matilda (Tillie), married Charles Prchal
Louis Mickel (Lou), married Josephine Palupa
Amelia (Millie) Francis, married Walter Astleford, then Raymond Mead
More information is posted on the family Introduction page.
Thanks go to Irene Van Moorleghem, Bob and Thomas Prchal, Gerald Rashke, Helen Griffin and Kathy Larson who gave me great help with the information you see on these pages.