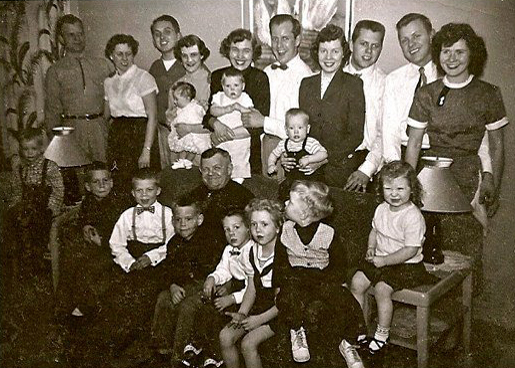 Back row, standing l-r, Clem & Irene Van Moorleghem, Gene & Ruth Elsasser holding Debbie Elsasser, Shirley & Al Jr. Riedmann holding Lori Riedmann, Janet & Lou Riedmann holding Chip Riedmann, George & Betty Riedmann.
Front row, sitting l-r, Bill Van., Wayne Van., David Quistad, Denny Van., Al Riedmann Sr. Dan Quistad, Margie Riedmann, Mike Riedmann and Jayne Riedmann.
Notes:
The picture is assumed to be taken in late 1954 or early 1955 based on who is in the picture and their ages.
It is assumed that Fran Quistad (later Garvin) took the picture because she is not in it, but here two sons are. Her husband Chet also is not in the picture.
Al's wife Frances passed away in May of 1954, so she isn't in the picture either. The picture would also take place before Alfred Sr. remarried.